Introduction
SaaS founders are having trouble sleeping at night – trust us, we asked. With capital more readily available than ever there are well-funded competitors across nearly every corner of SaaS. There are also increasingly aggressive expectations for founders to make the most of this capital and live up to their whopping valuations (we're looking at you, Zoom, with your 32x forward revenue multiple). Otherwise, founders and early employees risk getting squeezed under the weight of an excruciating preference stack (see FanDuel).
Objective data is critical to making the right strategic decisions that can propel your long-term growth. To help you rest a bit easier, we're releasing the results of our third annual Expansion SaaS Benchmarks survey. This report was designed specifically to enable operators to compare themselves against their exact peers across the metrics that matter most in a SaaS business.
This year's survey included a record number of participants who came from companies all around the globe. It revealed surprising insights about the adoption of product led growth (PLG) – a go-to-market strategy that underpins some of today's most successful businesses. While most companies are still in the experimentation phase, those who've mastered product led growth are exhibiting faster growth at scale while maintaining efficient customer acquisition. We've also covered topics ranging from top concerns for founders, remote-first as a key differentiator, progress on executive diversity and much more.
OpenView's 2019 report was written and compiled by Kyle Poyar and Sean Fanning. Special thanks to Ned O'Leary and Bayley Dietz for support on the data analysis, design and marketing. For questions, comments or to participate in next year's survey, please email Sean Fanning at [email protected].
Recognition for Our Partners
We're happy to share that this year's survey was our biggest yet, thanks in no small part to our amazing partners. If you're interested in joining as a partner next year, please get in touch!
The 2019 Expansion SaaS Benchmarks Report is sponsored by Oracle NetSuite, the #1 Cloud ERP Software Suite.

Who Took the Survey
More than 500 companies participated in the 2019 Expansion SaaS Benchmarks survey, ranging from pre-revenue to $150M+ ARR publicly traded SaaS companies. Respondents were predominantly the CEO / Founder (44%) or Head of Finance (24%) with nearly two-thirds of respondents selling to Midmarket or Enterprise customers (100+ employees).
<$1M: 26%
$1-2.5M: 14%
$2.5-10M: 27%
$10-20M: 13%
$20-50M: 11%
>$50M: 9%
CEO/Founder: 44%
CFO/VP Finance: 24%
COO/VP of Operations: 8%
CMO/VP of Marketing: 6%
CRO/VP of Sales: 9%
Other: 9%
Consumer: 4%
Very small business: 10%
Small Business: 23%
Midmarket: 34%
Enterprise: 29%
If You're Not Worried About These Two Things, You Should Be
There's a laundry list of things that can keep a founder up at night, from hiring the right talent to fundraising to keeping up with the competition. We learned that only two things really matter at the end of the day: product execution and go-to-market (GTM) execution. These were founders' top two concerns regardless of company size with just one exception (hiring was the #1 priority for those with $1-2.5M in ARR).
What Keeps Founders Up At Night
Don't have the right expertise on the team
Go-to-market (GTM) execution
SaaS is now ubiquitous: everywhere you look there are dominant SaaS companies with thriving products. 2018 was the best year on record for software IPOs with 17 new public companies raising a collective $5.1B, 2x more than the next highest year. Software companies spend $63.1B on R&D, accounting for one-fifth of all domestic business R&D in the US. Capital has become table stakes in this market and is one of the least pressing concerns on founders' minds. The name of the game is to make those dollars go further by out-executing your peers.
The next generation of SaaS companies isn't going to win by following the same playbook as larger, better-funded competitors. What if you didn't have to play that game? How people use and buy software is changing, and we're seeing the rise of the end user as opposed to the executive or the CIO. Product led growth (PLG) is how you outmaneuver the competition and thrive in the End User Era.
Product Led Growth is Your Secret Weapon
Whether you're a public scale cloud business or a fledgling startup, if you're not focused on product led growth you'll be left behind. A few years ago, only a handful of young public companies had adopted a product led growth model. Today there are 21 large public companies with a PLG model including all of the top IPOs this year. These companies have a combined market capitalization of $208B and are performing better post-IPO, too.
Drag your finger to view PLG Company Growth
Public PLG Companies
Our data suggest that PLG businesses don't grow the same way as their peers. In the early days, revenue growth may even be comparatively slow as they prioritize investments into the product rather than sales and marketing. The magic of the PLG model starts to kick in around $10M in ARR. As PLG companies aren't artificially constrained by labor-intensive lead generation, sales and customer success processes, they can stay in hyper-growth mode at scale. They can grow more efficiently as well, boasting a lower-than-average CAC payback.
Top Quartile Growth Rates by ARR Scale
| | PLG Companies | Non-PLG Companies | |
| --- | --- | --- | --- |
| <$1M ARR | 116% | 148% | |
| $1-2.5M ARR | 185% | 150% | |
| $2.5-10M ARR | 91% | 105% | |
| $10-20M ARR | 88% | 72% | |
| $20-50M ARR | 65% | 54% | |
| >$50M ARR | 50% | 30% | |
If you're thinking about leveraging PLG but don't know where to start, you're not alone. More than four-in-five survey respondents say they've adopted at least one PLG tactic such as a free trial offer, in-product self onboarding for new users and product analytics for decision making. These three are fundamental to building a company with a PLG foundation. However, only 33% say that product led growth is truly fundamental to their business.
Adoption of Product Led Growth Tactics
| | PLG Companies | All Companies | |
| --- | --- | --- | --- |
| Free trial offering | 74% | 45% | |
| Product analytics | 67% | 31% | |
| Self-service buying experience | 61% | 28% | |
| Bottoms-up sales | 55% | 31% | |
| Product qualified leads | 53% | 29% | |
| Referral programs | 50% | 31% | |
| Dedicated growth FTEs | 47% | 27% | |
| Freemium offering | 38% | 18% | |
Product Led Growth Is for the Enterprise, Too
Product led growth is for the enterprise, too. It is not just limited to companies who standup a self-service signup flow and sell to prosumers or small businesses. Three-in-five PLG companies say they target the Midmarket (businesses with between 100 and 1,000 employees). Meanwhile, 34% say they also sell into large Enterprises with 1,000+ employees.
Here's how they do it:
1
Enterprise Comes Later on
It is layered on top of a self-service, end user focused go-to-market motion.
2
Sales Looks More Like Customer Success
They initially help with new use cases, deeper integrations and perhaps switching to a team account with an invoice.
3
Sales Accelerates the Rate of Expansion in an Account
Leads are already there and product qualified so they close at a higher rate and in less time than traditional SaaS businesses.
"Not in the Bay Area" is the New Office Perk
$18.2B of venture capital investment went to software companies in 2018, and a whopping 61% of those dollars went to companies headquartered in high cost regions including the Bay Area, Seattle, Boston, New York, Austin, D.C. and Denver-Boulder according to Pitchbook. It's well known that these tech hubs attract significant investment and talent in droves, and consequently have produced some of the industry's biggest returns – the combined private value of unicorns in San Francisco alone equals that of all those located across the US.
But startup founders in high cost regions are nearly 50% more likely to be concerned about fundraising and 40% more likely to be worried about burning too much cash. Unless your entire management team is made up of Elon Musk clones, it is impossible to be focused on execution when cash balance is constantly top of mind. So what about startups in low cost regions? Companies headquartered outside of tech meccas perform as well or better. In fact, the best companies are growing 20% faster and realize 20-30% greater sales efficiency at scale. The fear of cash burn also isn't imagined – startups in high cost regions burn 133% more.
61% of $18.2B Investment Went to High-Cost Regions
Startup Founders in High-Cost Regions
50

%
More Worried About Fundraising
40

%
More Worried About Burning Too Much Cash
Low Cost Geographies:
Spend Less to Grow Faster
Founders in high-cost regions don't have an imagined fear of burn - their companies burn 133% more cash and don't grow as quickly as their peers in low-cost regions.
Global SaaS
If you want to take things one step further than a low-cost geography, go remote-first. A remote-first workforce is one of the secrets behind companies including Invision, Zapier, GitLab, and GitHub and has gone mainstream in 2019 as a key cultural and competitive differentiator. Great talent is found everywhere, regardless of geography and the best companies have realized this. Remote-first companies can prioritize people above all else and don't have to compete in crowded talent markets or for expensive office space and superfluous office perks. Plus, 72% percent of employees value flexible work policies and new research from leading universities suggests remote employees are more productive. OpenView's recent investment balena has embraced a remote-first culture and the team is distributed in more than 20 countries globally.
While we're on the topic of "global SaaS," nearly half of our responses came from companies outside of the U.S. Canada, Australia, Israel, the U.K., as well as the Nordics are leading the way, and collectively these geographies represented nearly 30% of our respondents. As companies from these countries (think Shopify, Atlassian and Wix) become generational businesses via IPO or M&A, founders will invest their fortunes as angel or seed investors to fuel further innovation outside of the U.S.
Respondents by Geography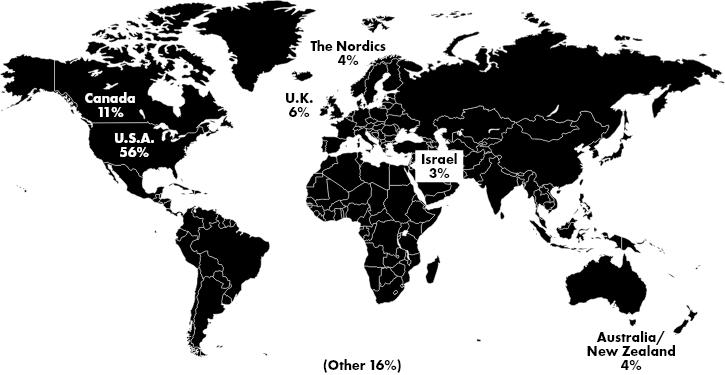 In an unpredictable world,
let's make profitability cool again
2019 has been unpredictable as trade wars, Brexit, slowing global growth and ambiguous rhetoric from the US Federal Reserve have resulted in broader economic volatility. One week media has lauded new market highs, while headlines just weeks later have signaled doom and gloom.
Chances are you've started to notice all of this, but it's been hard to differentiate signal from noise and you're still stuck wondering, "If a recession is coming, what does it mean for SaaS?" The rule of thumb has long been that SaaS revenue growth is correlated with valuation – high growth is correlated with high valuation. Growth is all that matters – end of story, right?
In reality, very few public SaaS companies support their growth with high burn – in fact just 7 (one in ten) public SaaS companies will generate substantial negative profit margins this year. The other 58 are either profitable or could generate profit in a quarter or two if the conditions necessitated. Amidst broader volatility, now more than ever it's important to remember that growth at all costs will only get you so far. Taking a lesson from the public SaaS markets, a path to profitability is your best hedge against future financing uncertainty.
Public SaaS Growth, Profit and Valuation Multiples
2019E Revenue Growth Rate
2019E Revenue Growth Rate
As an operator, your goal is to maximize the impact of your company's mission and create value for shareholders (including you!) by building an enduring business. Enduring enterprises – those that survive multiple generations and market cycles – must generate predictable and repeatable earnings. While earnings are likely a foreign concept when you're experiencing hypergrowth, there is a roadmap for success. Efficient growth recession-proofs any business by demonstrating it's on the path to becoming an enduring enterprise. By pairing strong growth with best-in-class SaaS metrics any company can demonstrate profit is possible, eventually.
That is why we're launching an Expansion SaaS Benchmarks Data Explorer, enabling anyone to visualize the data from our 2019 survey. Benchmarks act as the swim lane for operating a business. They're the best check on if you're growing fast enough at scale, spending the right amount to acquire customers, expanding customers rapidly enough, burning too much, and more. Next time your board pounds the table demanding more growth, point them to our benchmark data to help ground these dialogues in data, not conjecture.
Enterprise Saas Founders Smash Stereotypes
Some founders strike gold in their teens or twenties on the first try. More commonly, founders have to stumble multiple times before cracking the code. While the stories of Zuckerburg and Gates launching successful businesses from dorm rooms before their 30th birthdays are the stuff of legend, we're used to meeting founders who have tried, failed and themselves experienced the pain points they're solving for customers along the way.
Slack was built because Stewart Butterfield and his team needed a better way for users to chat in the video game they were building. Eric Yuan founded Zoom because during his time leading the engineering team at WebEx he came to believe "the service simply wasn't very good" and "someday, someone is going to build something on the cloud, and it's going to kill me." After 16 years at Microsoft struggling to adequately equip his sales team with the right content, Robert Wahbe founded OpenView portfolio company Highspot to bring automation and intelligence to sales and marketing teams, maximizing the impact of their messaging.
Founders over 30 years of age operate companies that perform better. They may not capture headlines, but these founders see 50% higher median growth and 45% less monthly cash burn than their younger peers. Repeat founders also recognize you can have the best strategy in the world but building a business requires a talented team. These individuals are 33% more likely to be concerned about hiring the right people and twice as likely to be concerned about hiring fast enough. Put simply, takes more reps and time at the helm to gain the experience and confidence required to lead an enterprise software company and make the right investments to fuel-efficient growth.
Growth Rate by Founder Age
Under 30
Over 30
The Plight of Diverse Teams: Working Harder for Less Capital
Research has clearly demonstrated the benefit of having diverse teams. But championing diversity requires commitment from the very top, including the Board of Directors, executive leadership and founding team. After notable progress last year, we're seeing stagnation this year. 38% of respondents had one or more female BoD member, which is nearly unchanged from last year (albeit up from 29% in 2017). Meanwhile, still 8% had gender parity on the BoD and 14% had parity among their leadership team.
Gender Equality in Leadership
Companies with an equal or female-dominated leadership team grew at faster rates than their male-dominated peers (115% vs. 99% year-on-year growth). But despite their strong performance, these companies are struggling to raise capital. They're 50% more likely to cite fundraising as something that keeps them up at night. Consequently, they're raising only half as much capital ($10.9M vs. $19M).
Only 22% of respondents had a person of color on their founding team. Going forward, we'll be assessing progress on ethnic and racial diversity in entrepreneurship. 
The Takeaway
It's a virtuous cycle. Adopting product led growth and a remote-first workforce yields efficient growth. With more capital to reinvest back into product, brand and virality become unstoppable forces in the marketplace. Embrace the end user era, build a better business - or get left behind.
1
Product led growth
is the secret to
out-executing your equally funded peers.
2
Move beyond tech stereotypes - teams composed of individuals across diverse geographies, races, ages and genders perform better.
3
Efficient growth - the balance of growth and best-in-class SaaS metrics - is your best hedge against future financing uncertainty.
Download the Full Report