VC Speed Dating: 5 Tips for Pitching Investors and Finding a Match
Funding is as much about finding a good partner as it is about securing cash. When you think about it, Kevin Tighe II wonders, is pitching investors really all that different from finding love?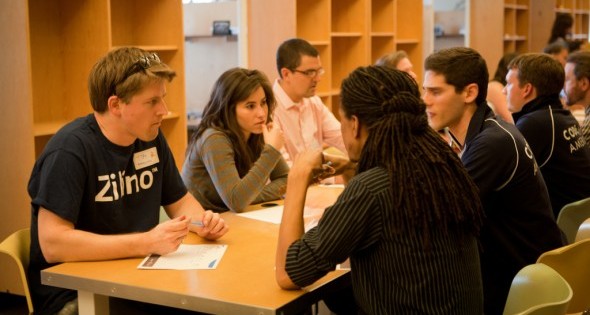 In a guest post for VentureBeat, Tighe II describes his recent experience attending a one-day VC "speed dating" event, where entrepreneurs were given the opportunity to pitch their companies in rapid-fire sessions. For founders looking for funding it provides an interesting opportunity for face-time with potential investors, but precious little face-time, and Tighe II stresses the importance of coming prepared and bringing your 'A' game.
"If you're lucky enough to have two and a half minutes, like I was, be prepared to lay out all the most important parts of your venture in the first minute," he writes. "VCs want to know the problem you're solving for your customer, your competitive advantage, how you make money, any traction that you've gained in the marketplace, and what you're looking for (resources, capital, etc.)" You should also choose who you plan to suit carefully. Do your homework and don't bother pitching any VCs who don't seem like a potentially perfect fit. Otherwise, you're wasting their time and yours. And as for following up, don't wait three days to call. This isn't exactly like speed-dating — you should absolutely follow up the next day.
For more what to consider in order to make the most out of your funding pitch, read the full post here.
Related Content from OpenView:
What do VCs want to see in a pitch? OpenView put the question to a panel of top venture capitalists and you can see their revealing answers here. And for advice on fine-tuning your elevator pitch, read this post from the OpenView Blog.
CAC payback period is a fantastic metric to measure success. But despite your best efforts, you might still be getting CAC payback wrong. Here's what to avoid.
The six-year CFO journey at Pantheon – where we increased ARR ten-fold to and through $100 million – taught me...
In today's macro environment, founders are realizing just how important it is to have a strong finance leader working alongside...
Subscribe & Scale
Sign up for our newsletter
Sign up for our newsletter