Meet OpenView's New Growth Strategists: Rebecca and Blake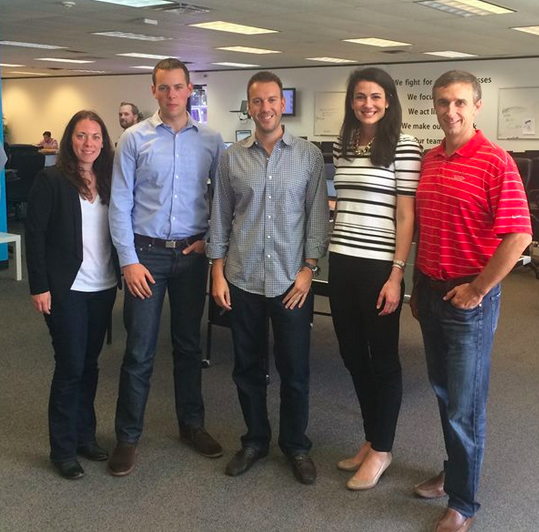 Last quarter was been a big one for OpenView Labs' Growth team. We added not one, but two new Growth Strategists, Blake Harris and Rebecca Churt. For both, their main objective is to help OpenView's portfolio optimize their lead generation processes and move those qualified leads through the funnel.
Pretty sweet, right?
Adding Blake and Rebecca was a decision that was driven by the demands of the companies that OpenView has invested in. If I had a nickel every time a portfolio company asked for help generating pipeline I could probably be on my way toward fueling another fund for OpenView.
The fact is: Marketers at expansion-stage businesses are often the key drivers of business growth. They are routinely tasked with simultaneously building brand awareness, nurturing prospect relationships, and generating qualified sales pipeline, while also justifying the ROI of every program, strategy, or investment they make.
Pulling all of those things together is not easy. It requires incredible focus and execution, as well as an amalgam of new age marketing skills that often toes the line between art (old school creative thinking) and science (technical and analytical operations expertise). Finding and recruiting individuals who fit the bill can be challenging — particularly for startups and growth-stage companies with limited human and capital resource.
Ultimately, that's why we decided to bring that talent in-house with the Labs.
With Blake and Rebecca on board, now OpenView can work alongside the companies in the portfolio to help improve the effectiveness of their marketing programs by identifying and investing in the marketing strategies that will have the biggest impact on pipeline generation and conversion optimization.
Meet Blake Harris

Prior to joining OpenView, Blake Harris was a Demand Generation Marketing Manager for Brightcove, a B2B SaaS company that was founded in 2004 and went public in 2012. At Brightcove, Harris contributed to the company's tremendous growth pre- and post-IPO by serving in various roles, including demand generation, marketing operations and analytics, and content marketing. Before joining Brightcove, Harris founded Newburyport Pedicab, a community-based bicycle taxi company, which served as a fundraising vehicle to support cancer research charities. Profits from the business were donated to the Pan-Mass Challenge and the Dana Farber Cancer Institute.
Meet Rebecca Churt

From 2009 to 2014, Rebecca Churt worked at HubSpot, where she helped grow the inbound marketing software company's organic search into one of the largest lead generation channels. Churt also managed a team of key players focusing on growing the company's database by 12 percent month over month. As an independent consultant, Churt has successfully developed and implemented new marketing opportunities for 350+ businesses that improved brand awareness, customer loyalty and retention rates, and increased traffic and leads.
OpenView first invested in SmashFly, a recruitment marketing platform, in June 2014. The investment marked our very first in the HCM...
Today, we are very excited to welcome Scalr, the leading enterprise cloud management platform, to the OpenView family, after leading...
The OpenView Investment Team is currently looking to add a new Associate to our team. Learn more about how it's an unique opportunity.
Subscribe & Scale
Sign up for our newsletter
Sign up for our newsletter

;