Key Takeaways
While growth is much harder to come by in 2023, there are pockets of resilience amid the doom-and-gloom.
The North Star for many has become ARR per FTE, which reflects the productivity of your team. We've seen big increases in ARR per FTE year-on-year.
Positioning yourself as "AI" doesn't impact growth. But monetizing AI does.
To drive productivity, companies need efficient product-led growth (PLG), expansion within the customer base, and improved operations.
Introduction
The 2022 SaaS Benchmarks report uncovered one defining theme: whiplash. The number of newly minted unicorns fell by upwards of 80% between Q3 2021 and Q3 2022. Valuations of fast-growing public SaaS companies plummeted from 46.2x to 11.0x in a year's time.
While the value of growth fell sharply, there were a few silver linings. SaaS companies were still growing reasonably quickly. They had plenty of cash runway from recent financings. And many of them acted quickly to both preserve capital and embrace efficient growth.
Today things look quite different. Public SaaS company valuations have ticked up (relative to growth rates), buoyed by the promise of AI along with easing inflation. At the same time, customers stopped buying software like they did in 2021, making growth far harder to come by. Businesses large and small delayed purchases, lengthened deal timelines, and scrutinized cloud spend in a way that we haven't seen in some time.
But software remains mission critical as enterprises continue to pursue digital transformation. And AI makes software even easier to adopt and even more valuable. We're seeing pockets of resilience overlooked among the doom-and-gloom narratives. So, who are these outliers and how do you become one?
The Bad: SaaS Growth Rates Continue to Compress
Even the most powerful and best performing SaaS companies have seen growth stall over the past 12 months. At Snowflake, year-on-year revenue growth declined from 98% to 60%. At ZoomInfo, it has decreased from 57% to 29%. PLG companies were certainly not spared, seeing revenue growth fall from 45% to 29% – a faster rate of decline than the broader SaaS index.
While growth has come down, SaaS businesses have meaningfully improved their balance sheets. Profitability in terms of free cash flow has increased at the lion's share of public SaaS companies. For PLG companies, it jumped from -3% to 7% and is now nearly on par with the broader index.
This is happening at private SaaS companies as well. Real-time data from ProfitWell shows that compound annual growth rates (CAGRs) have fallen from a high of 60% in Q1 2022 to a mere 8% as of August 2023.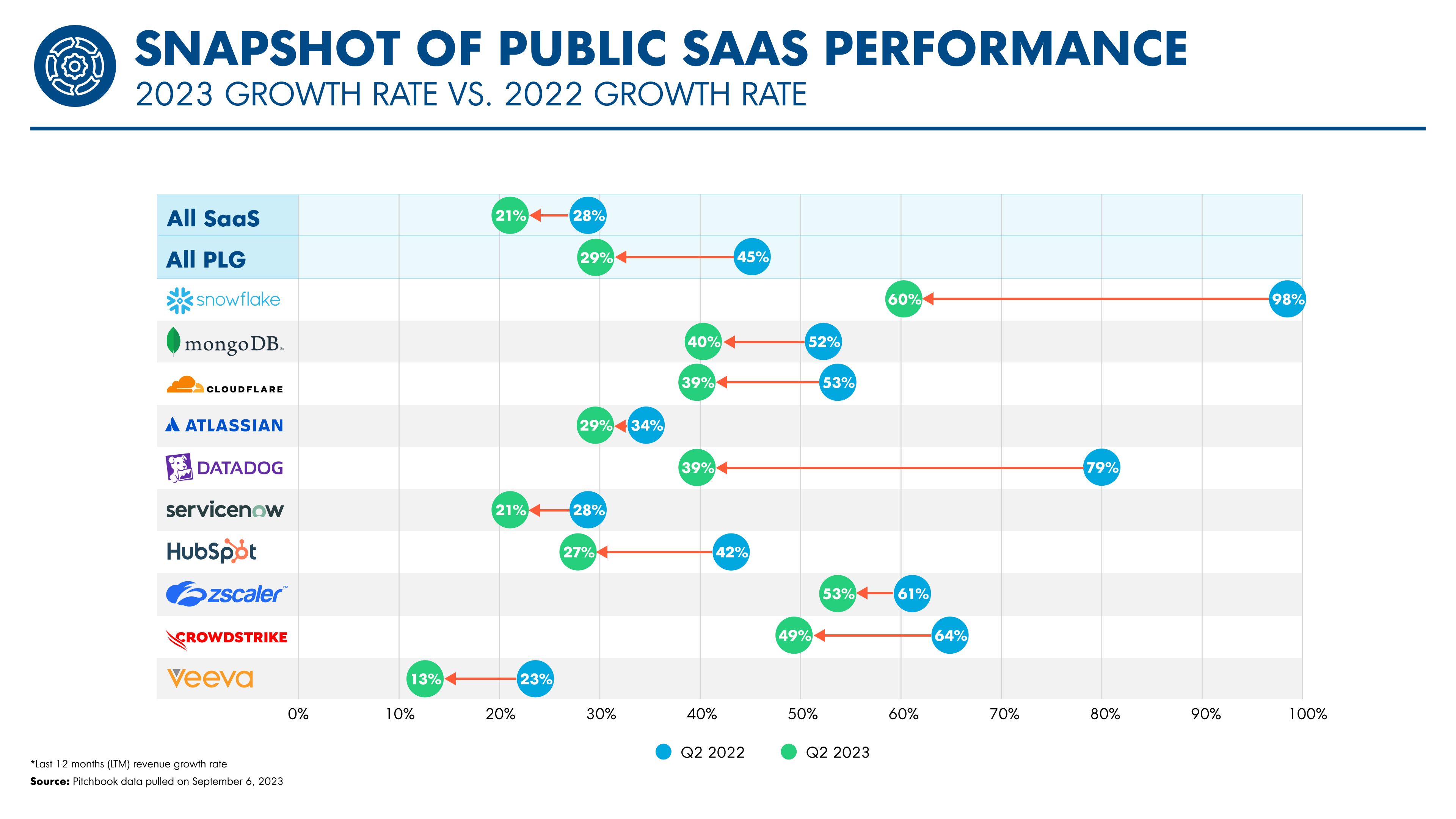 The Good: Pockets of Resilience
Things sound doom-and-gloom. They're not that way for everyone. Roughly one-quarter of private SaaS companies we surveyed say they're growing faster now compared to last year. These outliers represent the next generation of future unicorns who will emerge from the SaaS slowdown even stronger than they went in.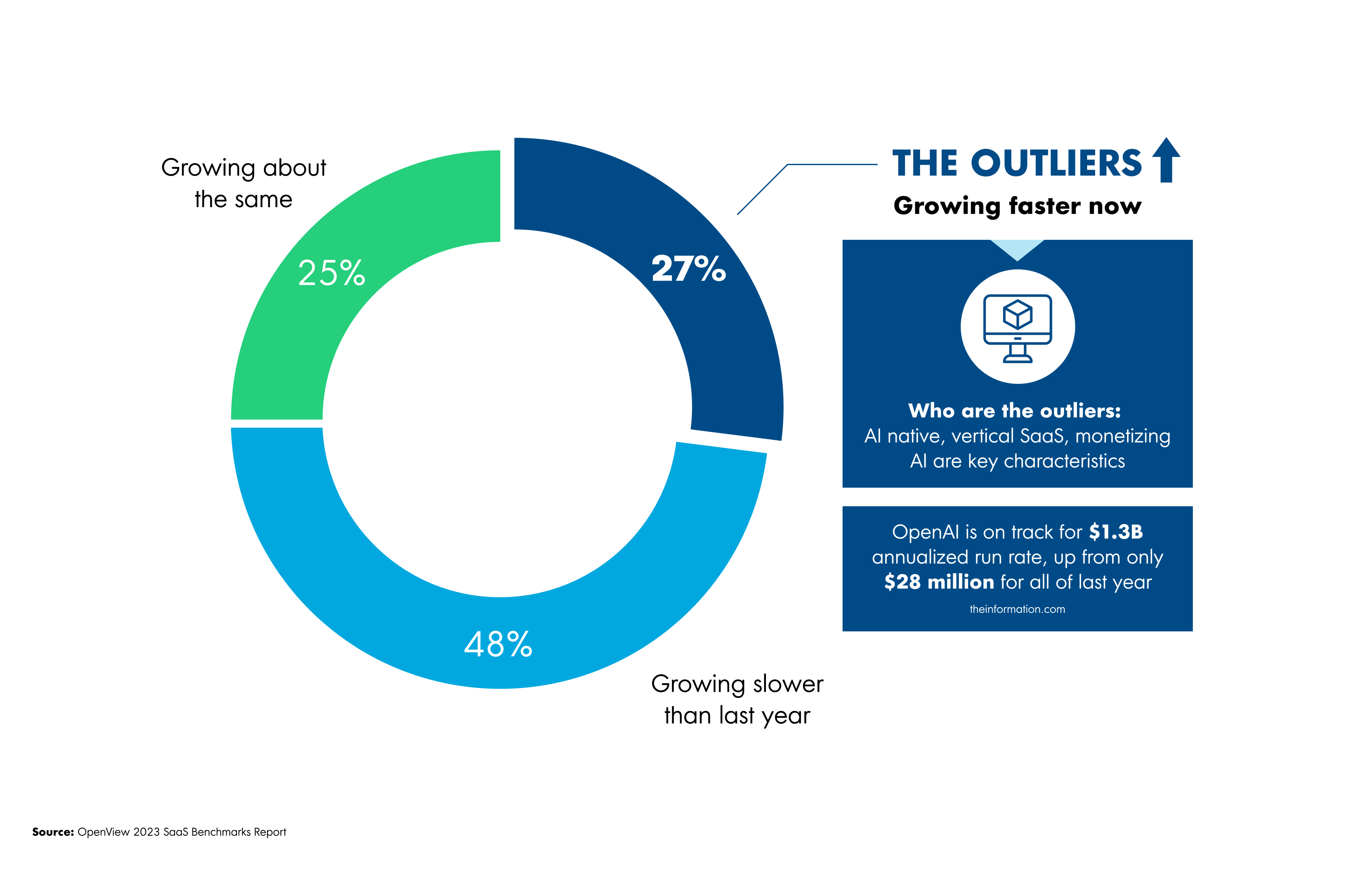 How to Be an Outlier
1. Just Add AI (Ok, Maybe Not)
Perhaps the most notable outlier is OpenAI, the maker of ChatGPT that's reportedly on track to grow revenue from $28 million last year to a $1 billion run-rate. The launch of ChatGPT didn't simply capture the public's imagination, it captured the budget of the enterprise CIO.
AI-native companies in the survey were 3.3x more likely to be outliers and this factor had the strongest influence in predicting outlier performance. SaaS companies who both launched and monetized AI products similarly benefited and were 1.5x more likely to be outliers.
These two groups collectively represent only 27% of outlier companies, however. The largest group of outliers were vertical SaaS companies, those targeting specific industry verticals that are often underserved by technology (think: Toast, Shopify, ServiceTitan).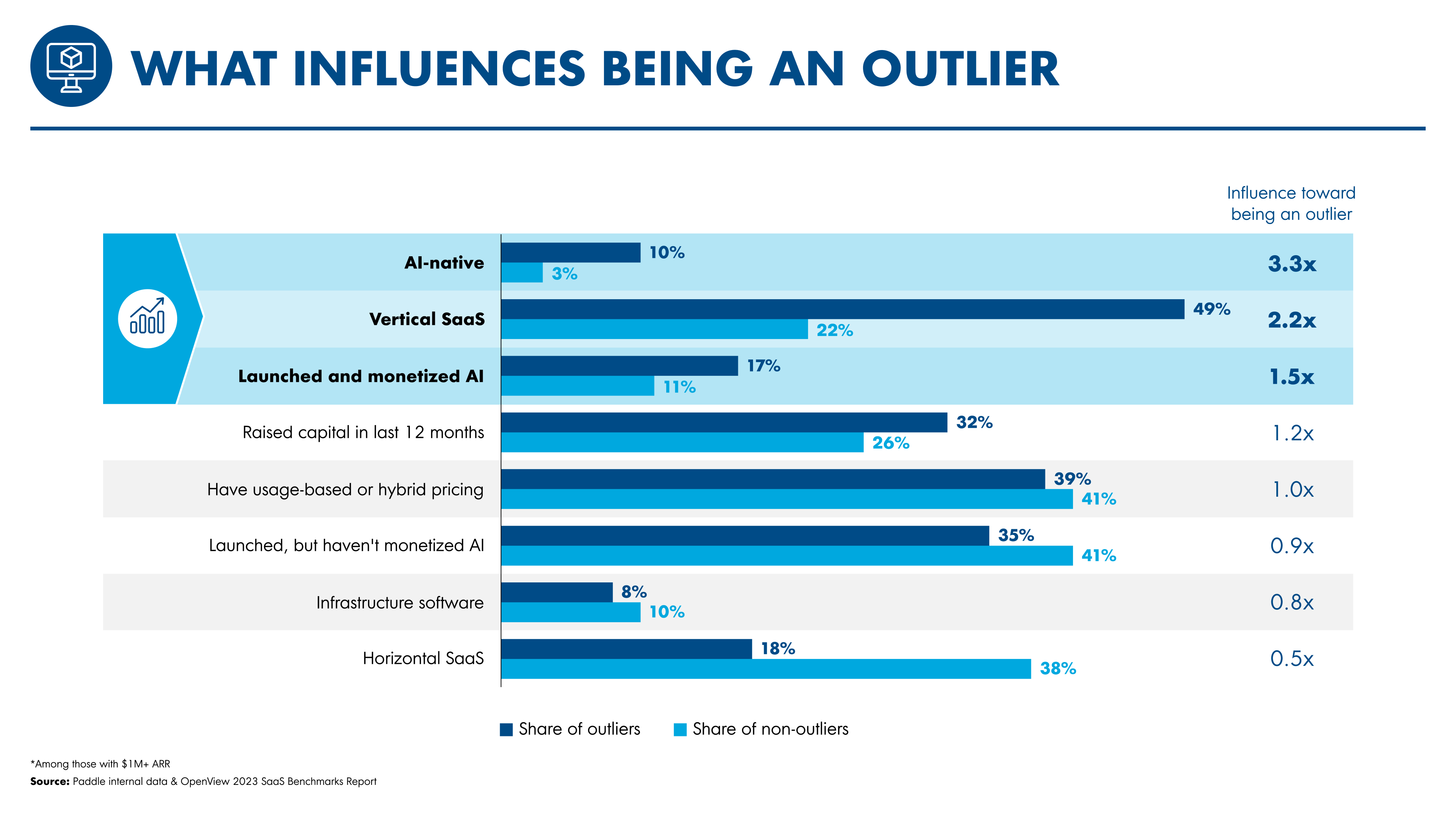 Adding AI wasn't enough to be an outlier. Companies had to monetize AI, too.
77% of SaaS companies we surveyed had either launched AI features or have AI on their product roadmap in 2023. Only 15% have actually monetized AI. Most SaaS companies are still in testing mode, either trying to figure out what AI features they should launch or whether they can charge for these new capabilities.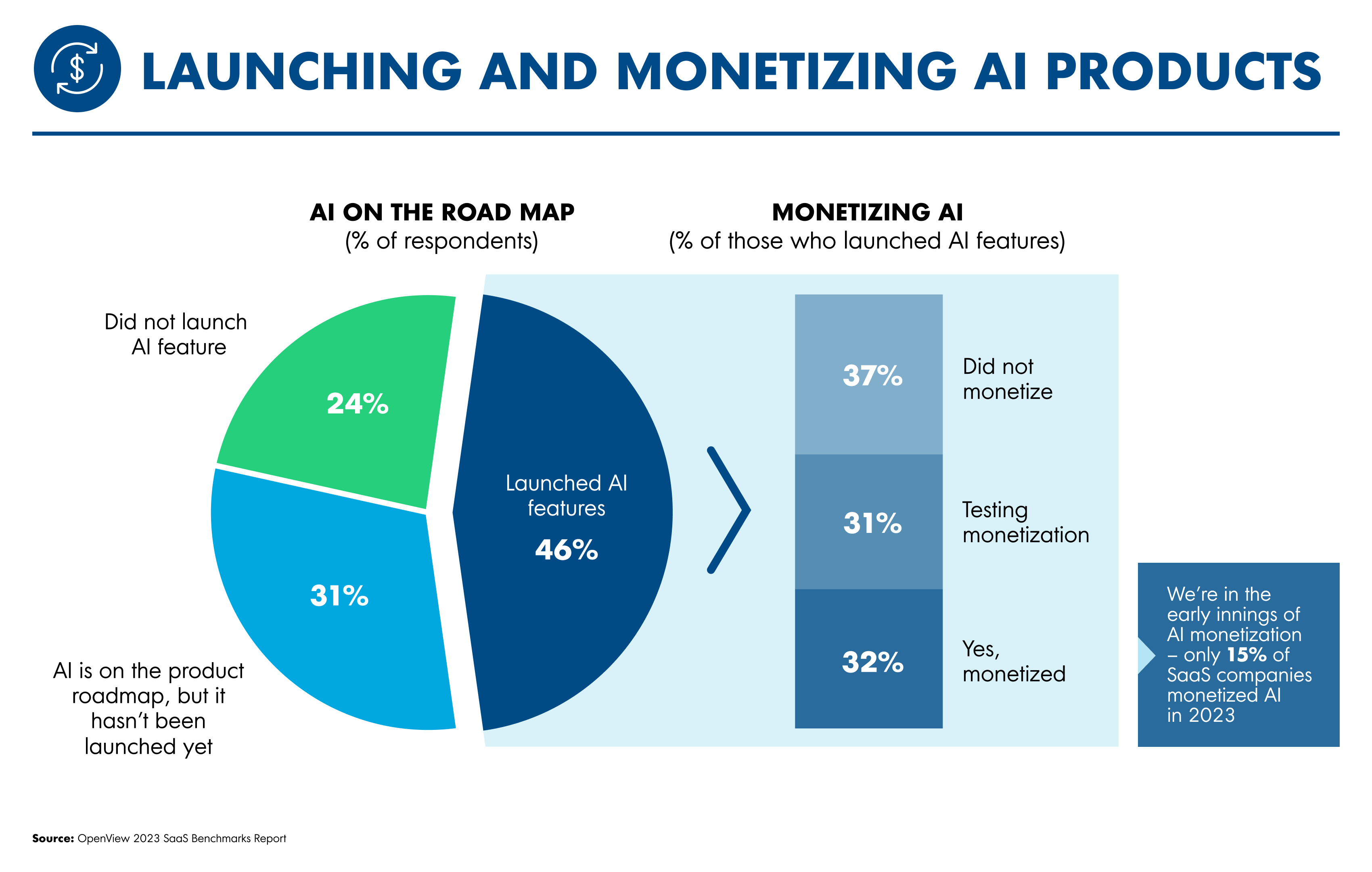 2. A New Standard for Productivity
Companies ultimately go out of business because they run out of money. While layoffs made headlines over the past year, they helped many companies get in control of their burn rate and build a more resilient business.
The North Star metric has become ARR per FTE, which reflects the productivity of your team and whether adding headcount helped make a stronger business. This is a metric you can't hide from. There's no complicated math or financial engineering to do.
We've seen large increases in ARR per FTE – and this is happening among SaaS companies of all sizes. Keep in mind that there's no one-size-fits-all benchmark and what's "good" for your business will depend on your geographic location, amount of capital, and level of outsourcing.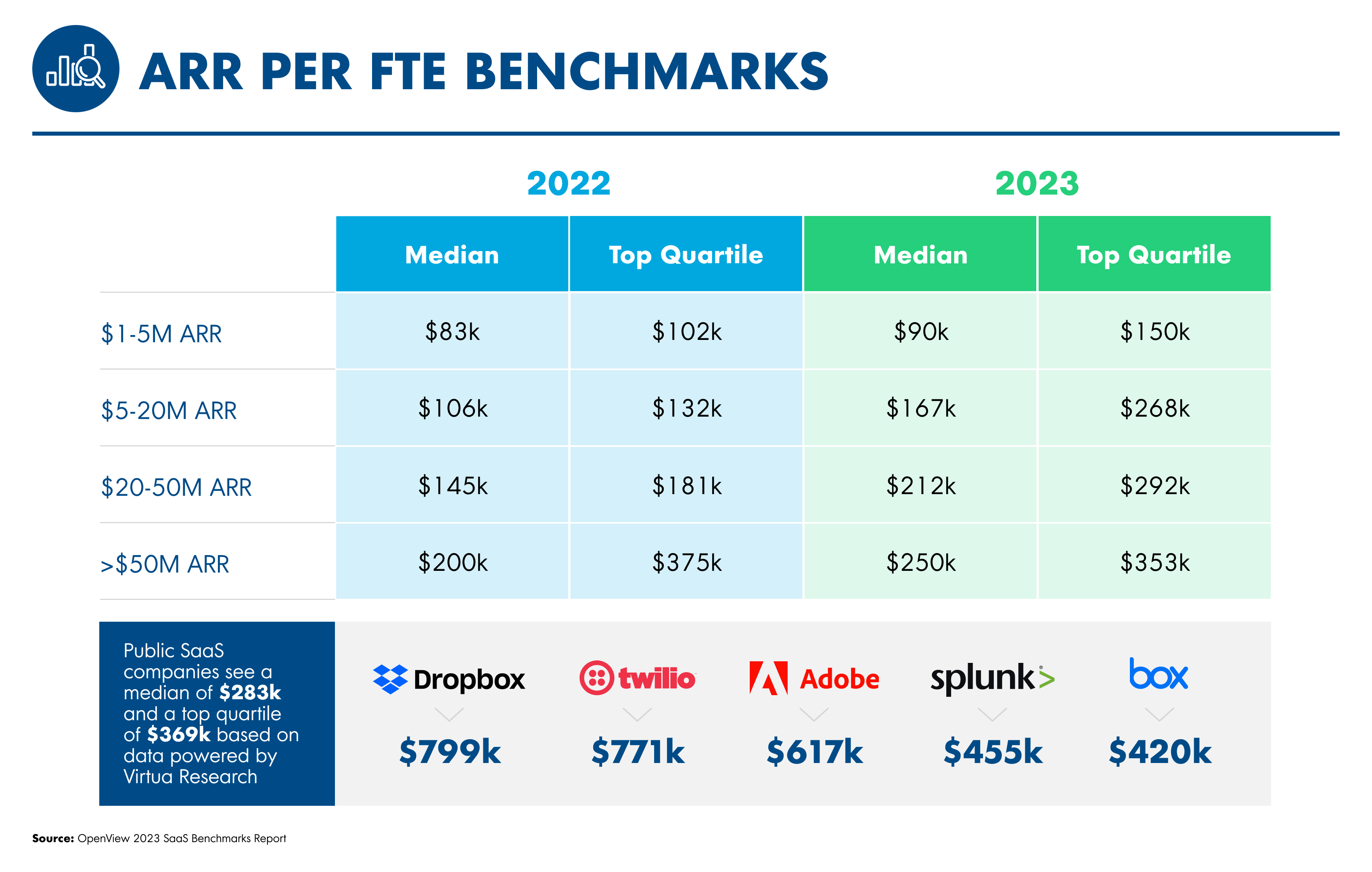 While we're all talking about adding AI to product roadmaps, a potentially larger – yet still untapped – opportunity is to leverage AI in your internal operations. In theory, AI should set a new standard for ARR per FTE as companies are able to take manual work and offload it to smart AI agents. This thesis is already playing out in AI-driven customer support as well as in AI-driven outbound prospecting.
3. Product-led, Sales-assisted, and Incremental
Earlier this year, the data showed that companies with PLG characteristics were far less profitable than their SaaS peers. These businesses had outsized spend in both R&D (which makes sense given investments in product growth, UX, analytics, etc.) as well as sales & marketing. While companies might've appeared to be product-led from the outside with free trials, public pricing, and the like, the reality is that PLG efforts weren't core to their business models.
Today we look for PLG investments to drive incremental growth as well as to efficiency by taking work that would usually be done by people and replacing it with product-based solutions. One emerging metric to assess PLG performance is product-influenced revenue: how much net-new revenue is from customers who start with a meaningful product interaction before ever talking to sales.
Product-influenced revenue is highest among SaaS companies with a self-serve freemium offer, representing about 90% of total revenue. That said, offering a freemium plan is not enough. Product-influenced revenue can swing from 28% at the bottom quartile to 100% at top quartile companies.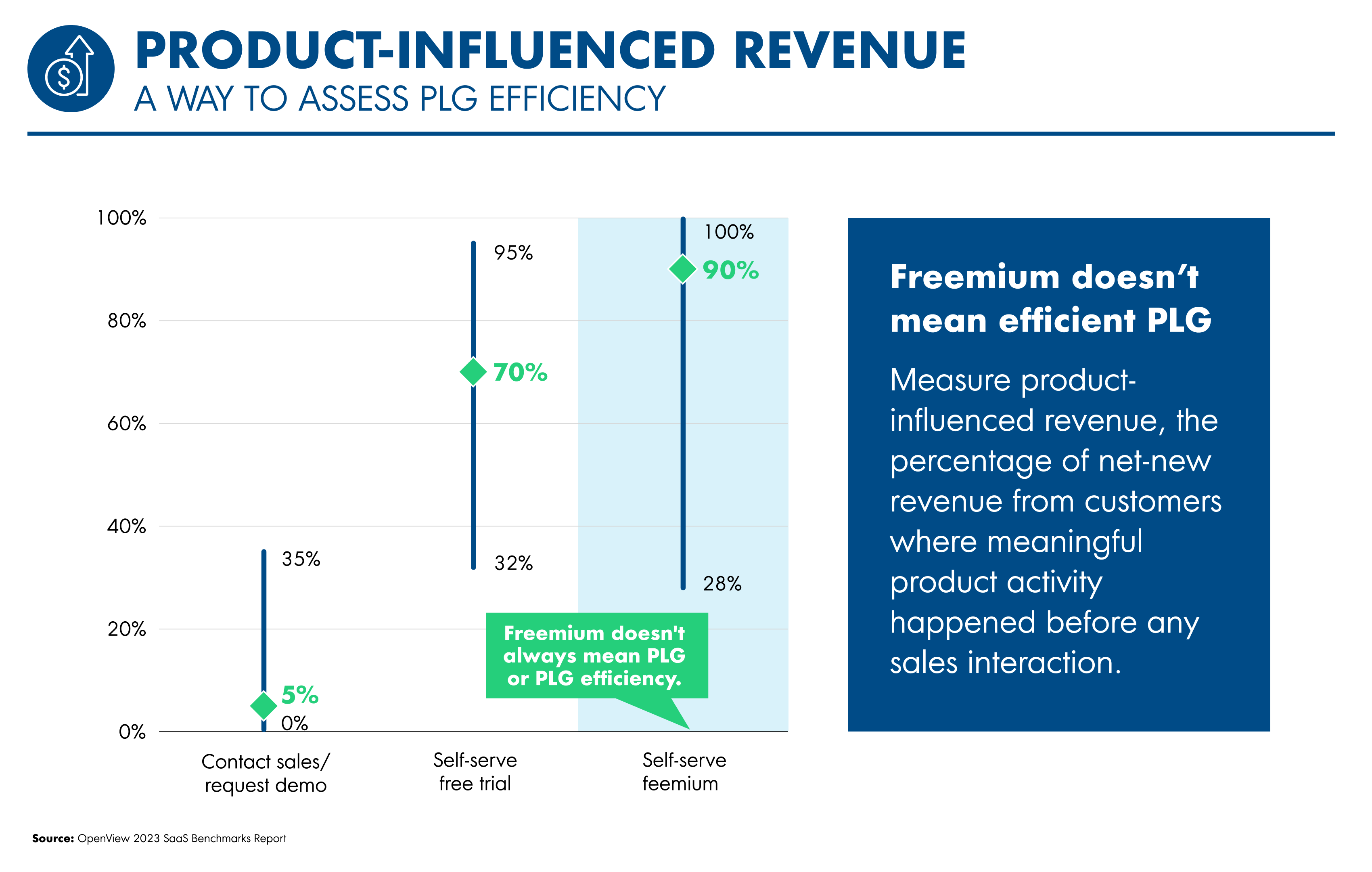 While the expectations for PLG have gone up, PLG remains an important part of building an outlier company – specifically, an outlier AI company.
Among AI products we surveyed, 84% said PLG was either a core focus or a partial focus. AI specifically raises the bar in terms of demonstrating value quickly. We used to think about demonstrating value quickly as helping users reach their 'aha moment'. AI products promise to get users to a 'wow moment' in as much time (or even less).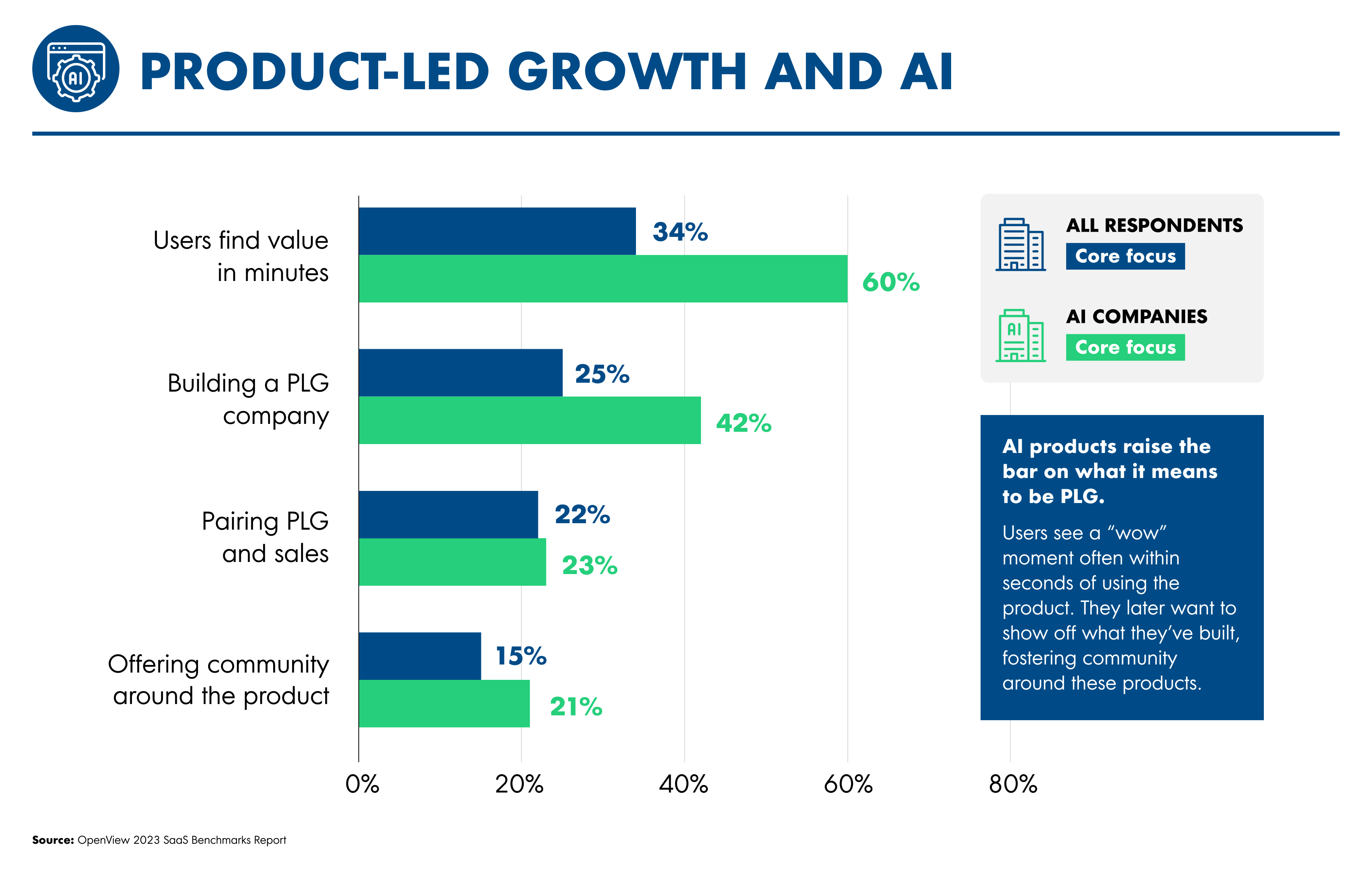 4. Expansion is the New Acquisition
We've known for some time that expansion revenue is more efficient than revenue from new customers. Now expansion revenue is a lot harder to come by than it used to be. Gone are the days when we could count on customers simply growing their headcount (and therefore increasing their spend) or blindly increasing their usage.
The data has shown softness in retention year-on-year with impacts to both gross revenue retention (which ignores upsells) as well as net revenue retention (which includes them). Top quartile companies have been hit the hardest with expansion stage companies, for instance, seeing NRR drop from 119% to 107%.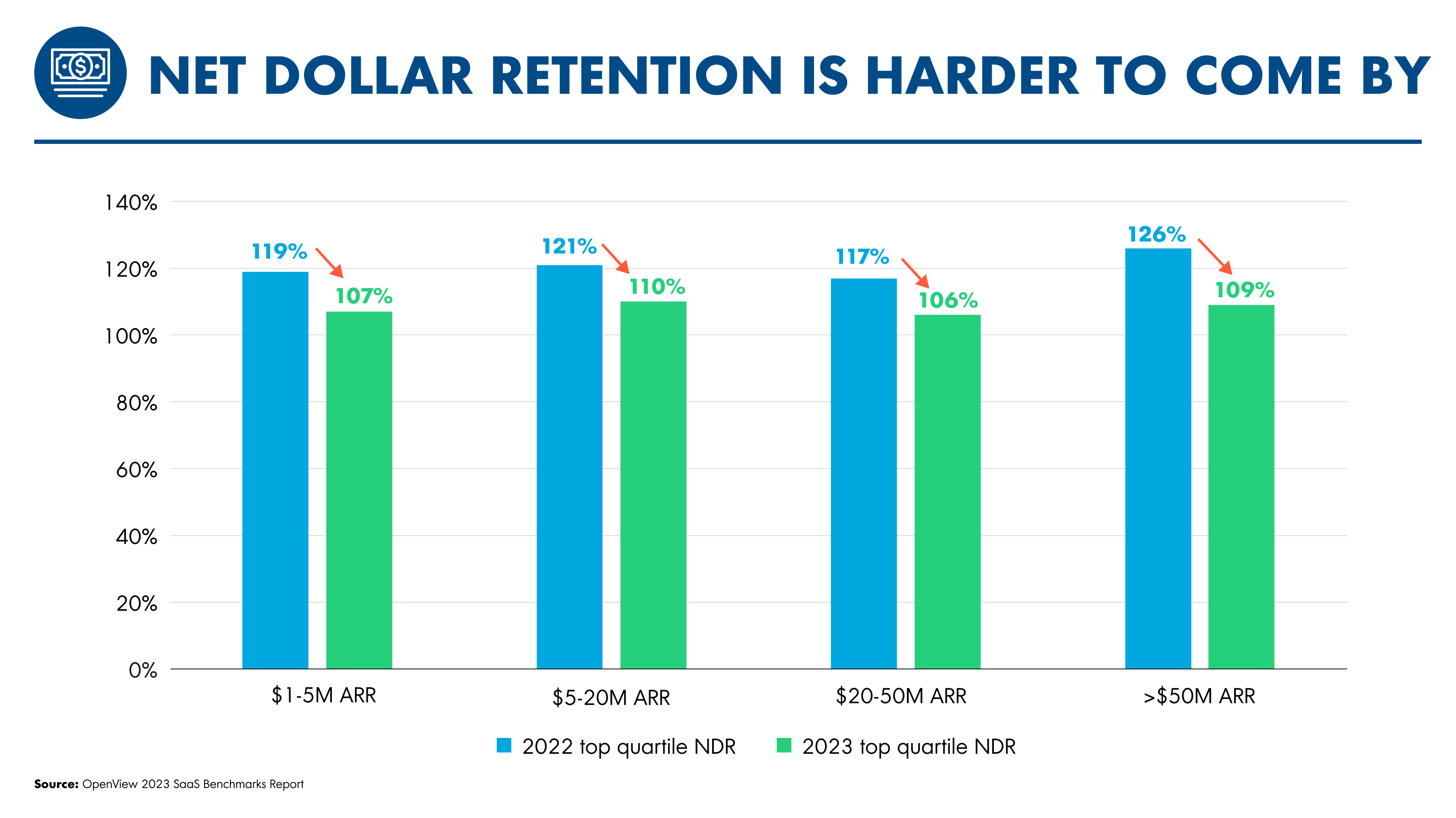 What you can do to increase expansion revenue:
Run a multi-product strategy, with cross-sell as a source of revenue
Create an add-on feature or service, targeting a customer segment with higher willingness-to-pay
Price on a value metric with expansion built-in (ex: usage-based, outcome-based)
Adjust GTM roles and comp to incentivize expansion rather than just adoption or renewals
5. The Year of the Operator?
In hyper-growth mode, we don't worry as much about operations as we're focused on serving customer demand and can afford to hire more people to solve problems manually. As we focus on doing more with less, attention is being turned to how to automate manual work, optimize our processes, and grow smarter. Four specific areas you can focus on today for efficient growth in 2024:
A) Keep Back Office Costs to a Minimum
An overlooked low-hanging fruit is to manage the costs associated with finance, tax, and compliance. More than a quarter (27%) of SaaS companies don't know or don't track these costs today. For the ones who do track it, it might represent 5-9% or more of annual revenue.
B) Analyze – and then Adjust – Your Pricing and Packaging
Last year we pointed to pricing and packaging as one of the fastest and cheapest ways to re-inflect growth. Notably, the median impact on NDR from changing pricing was a +14% increase among expansion stage software companies.
This year that message has been heard; 78% of respondents changed either their pricing and packaging. But what gives us some pause is how they've gone about making the change. For the majority of companies who changed their pricing (52%), their planning consisted of a short internal analysis taking less than a month. In doing so, many paid for it with the amount of dollars left on the table.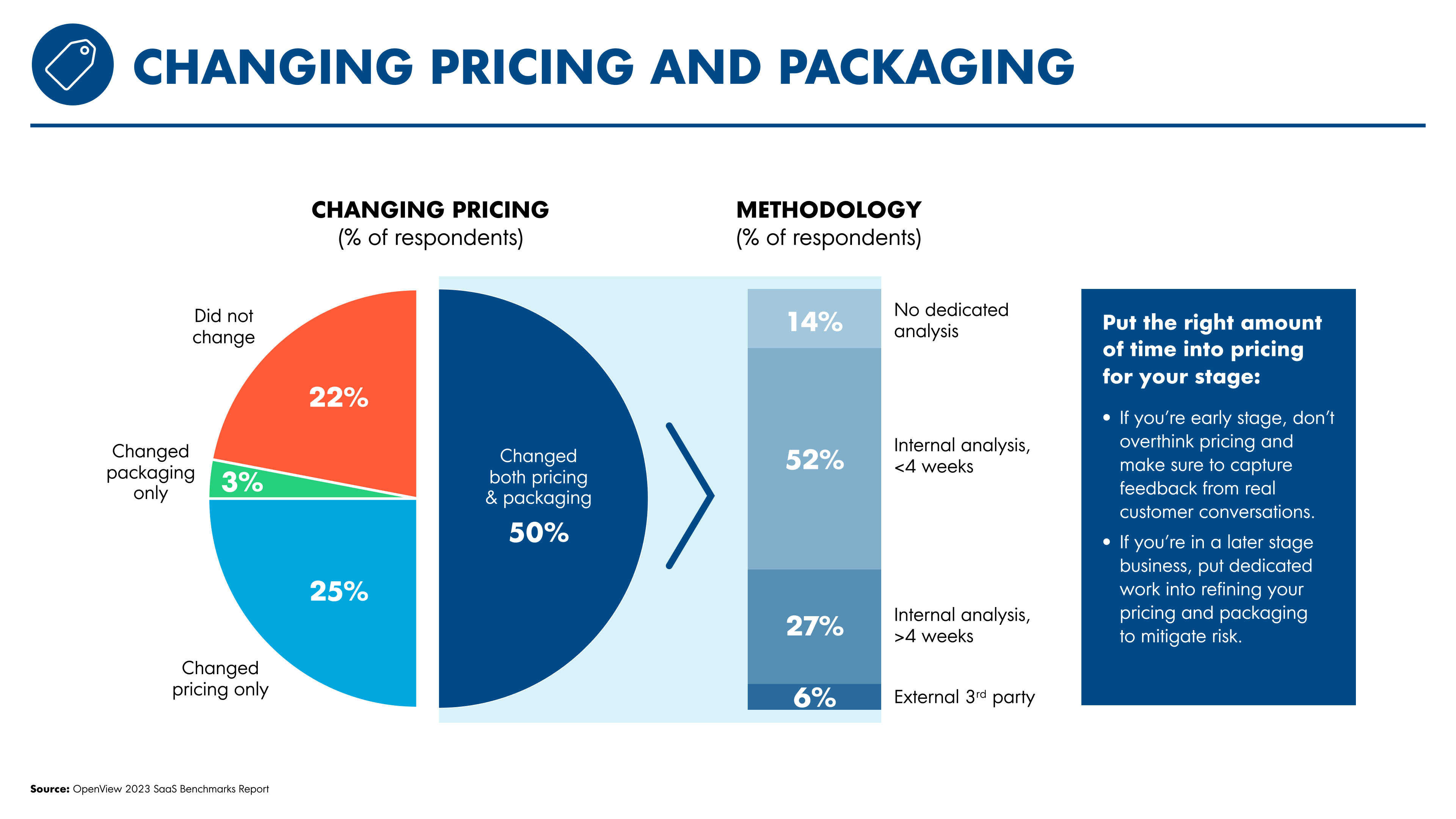 C) Attract Customers Internationally
US-based SaaS companies have historically waited to expand internationally until relatively late in their lifecycle. Expanding abroad was seen as complicated, costly, and potentially distracting.
Today's batch of SaaS companies are starting to be international by default. Innovation is happening everywhere, and product-led startups are 'always on' for customers to discover, try, and buy.
Success requires investing in international operations like solving local payment acceptance, billing currency, pricing localization, and even local tax compliance in each region. Looking at pricing specifically, best-in-class SaaS companies adapt pricing geographically based on local willingness-to-pay, foreign exchange, and operating costs.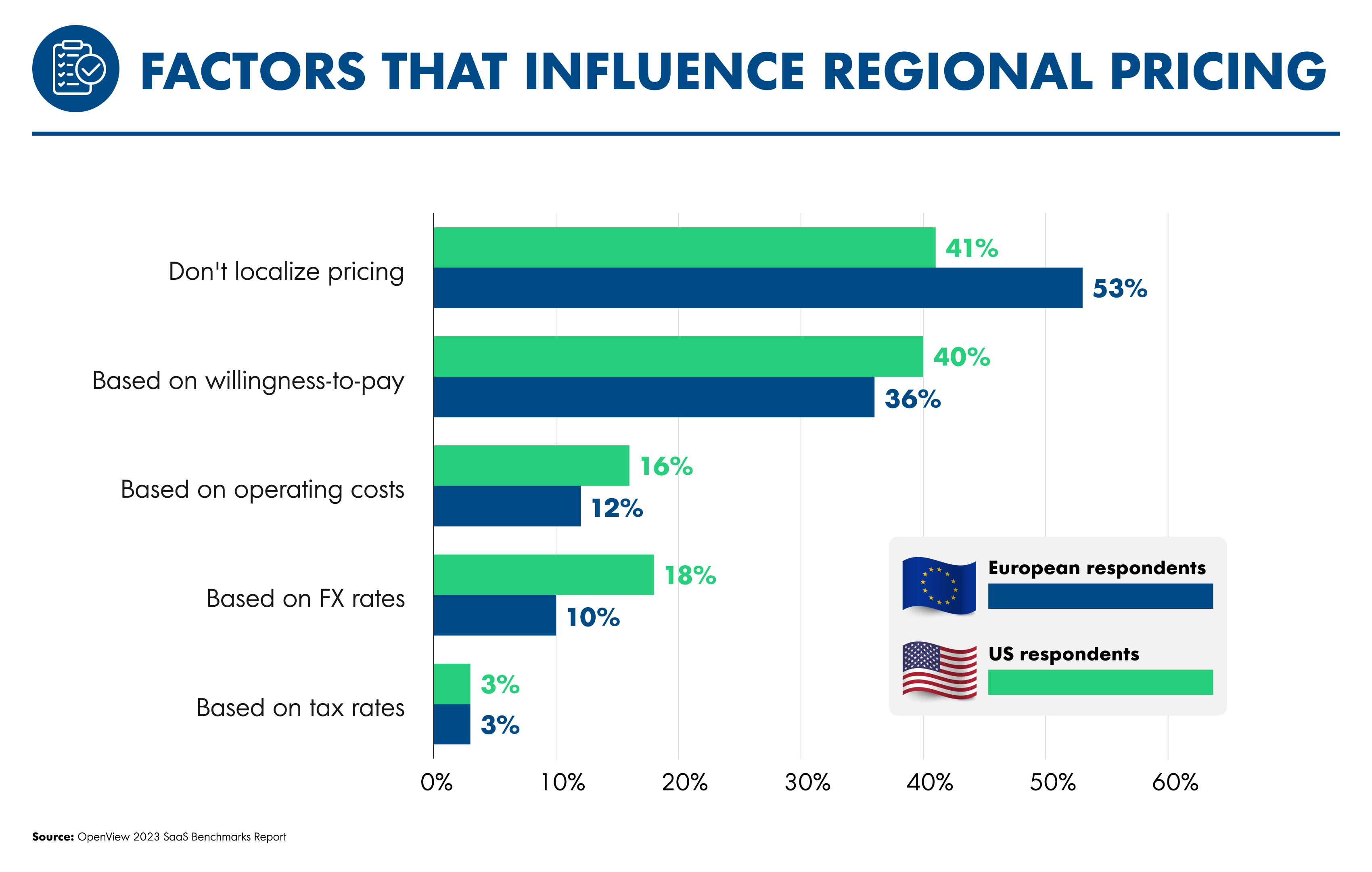 D) Make it Easy for Customers to Buy
Adapting pricing to local markets is only part of the equation. You need to make it easy for customers to buy on their own terms, whether they want to purchase via invoice, credit card, PayPal, or a different method of payment.
Many US-headquartered companies expect that other markets buy similar to how we do. It turns out that's not usually the case. America loves credit cards; however, Germany prefers PayPal, China likes Alipay, and the Netherlands embraces iDEAL (I had to look that one up, too!).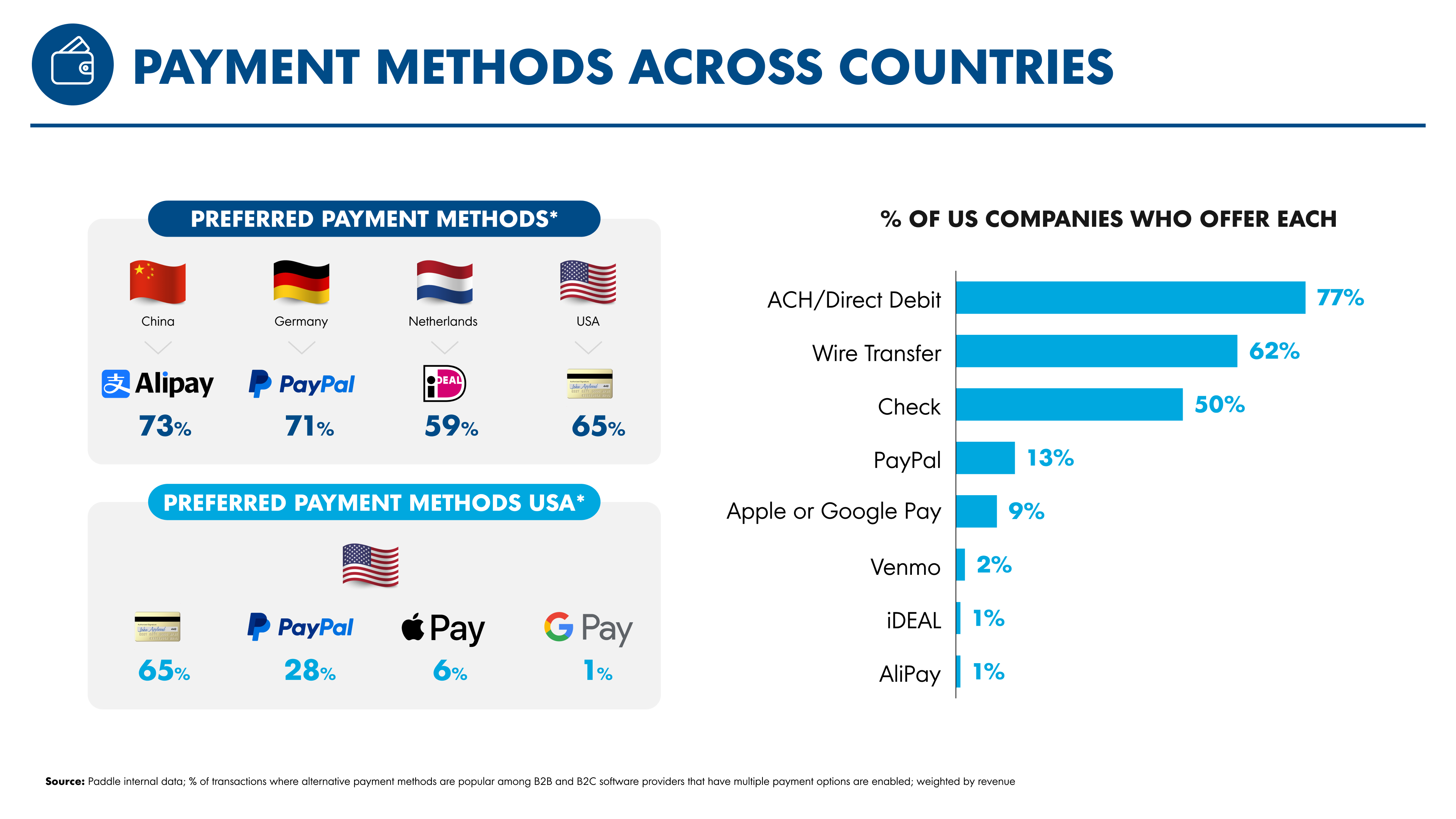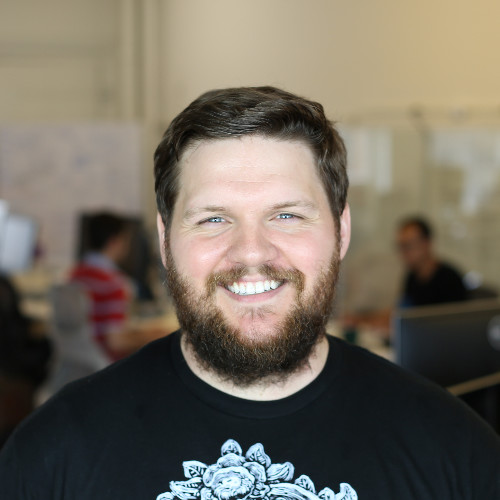 "Companies that are using market-based localization are seeing nearly double the growth of their non-localized counterparts. This happens because, even in a globalized world, each market is different: with different densities, competitive environments, and the like."
Patrick Campbell
Chief Strategy Officer, Paddle
Final Thoughts
While growth is much harder to come by in 2023, there are pockets of resilience amid the doom-and-gloom.
The North Star for many has become ARR per FTE, which reflects the productivity of your team. We've seen big increases in ARR per FTE year-on-year.
Positioning yourself as "AI" doesn't impact growth. But monetizing AI does.
To drive productivity, companies need efficient product-led growth (PLG), expansion within the customer base, and improved operations.
Data & Definitions
OpenView's 2023 SaaS Benchmarks Survey ran from 7/26/2023 to 9/1/2023. A link to the survey itself can be found here: 2023 Benchmarks Survey
Overall 710 operators at SaaS businesses responded to the survey.
The survey was distributed through our sponsor, our peer network of VCs, and our own network.
For more detailed definitions on the metrics in this report, please refer to the full report.
If there are additional questions/comments, reach out to [email protected]
Download the Report
Download the full report for even more objective data to learn how your company stacks up.