Introduction
FRICTION IS THE ENEMY OF EFFICIENCY.
WELCOME TO PRODUCT-LED GROWTH IN 2023.
The B2B customer journey now starts with self-service. Enterprise end users can discover products and start using them immediately. Self-service promises to eliminate friction in adopting new software, and the same friction means inefficiency for software vendors, too. 
SaaS companies can no longer afford to grow in a people or resource-intensive way. Everyone is looking to incorporate scalable solutions – including automation and, yes, AI – to de-labor their go-to-market strategy. Product-led growth is an important part of the mix.
How are companies turning product usage into efficient growth in 2023? This year, OpenView and Pendo joined forces to find out. The 2023 Product Benchmarks report includes insights from a record-breaking 1,000 participants. We explored what's changed in the world of PLG adoption, growth levers, PLG tooling, product funnel metrics, and much more. 
Let's explore product-led growth in 2023.
Download the 2023 Product Benchmarks Report

Who we surveyed
DIVERSE REPRESENTATION FROM SEED TO PRE-IPO.
Respondents were fairly evenly split between seed stage (<$1 million ARR), expansion stage ($1-10 million ARR), growth stage ($10-50 million ARR) and pre-IPO ($50 million+ ARR).
A NEW BASELINE FOR FAST GROWTH.
22% of this year's respondents are fast-growing, down from last year. As SaaS companies have pivoted away from growth-at-any-cost, we've updated the report's definition of 'fast-growing' from 100% to 75% year-on-year growth rate.
MORE GRANULAR CATEGORIES WITHIN SAAS.
With a larger dataset, we're able to investigate nuances in sub-categories of SaaS like horizontal apps (think: Salesforce, Slack), vertical apps (Procore, Veeva), and infrastructure tooling (Datadog, AWS) along with target customer type.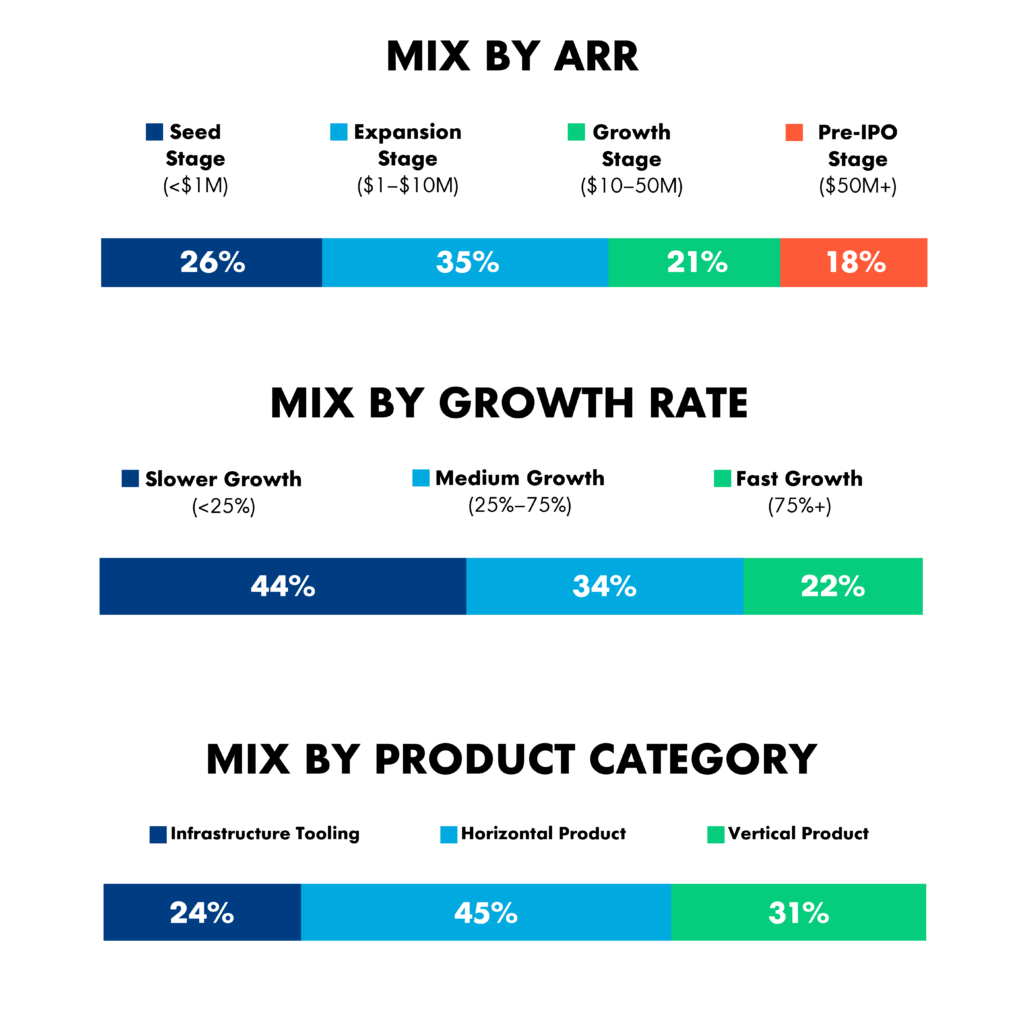 State of SaaS: The goalposts have changed
Even the most casual SaaS observer can sense that growth rates have cooled. We saw early signs of this in last year's report and the trend has accelerated in 2023. Only one-fifth of companies in this year's survey were growing at least 75% year-on-year, down from 49% in 2021.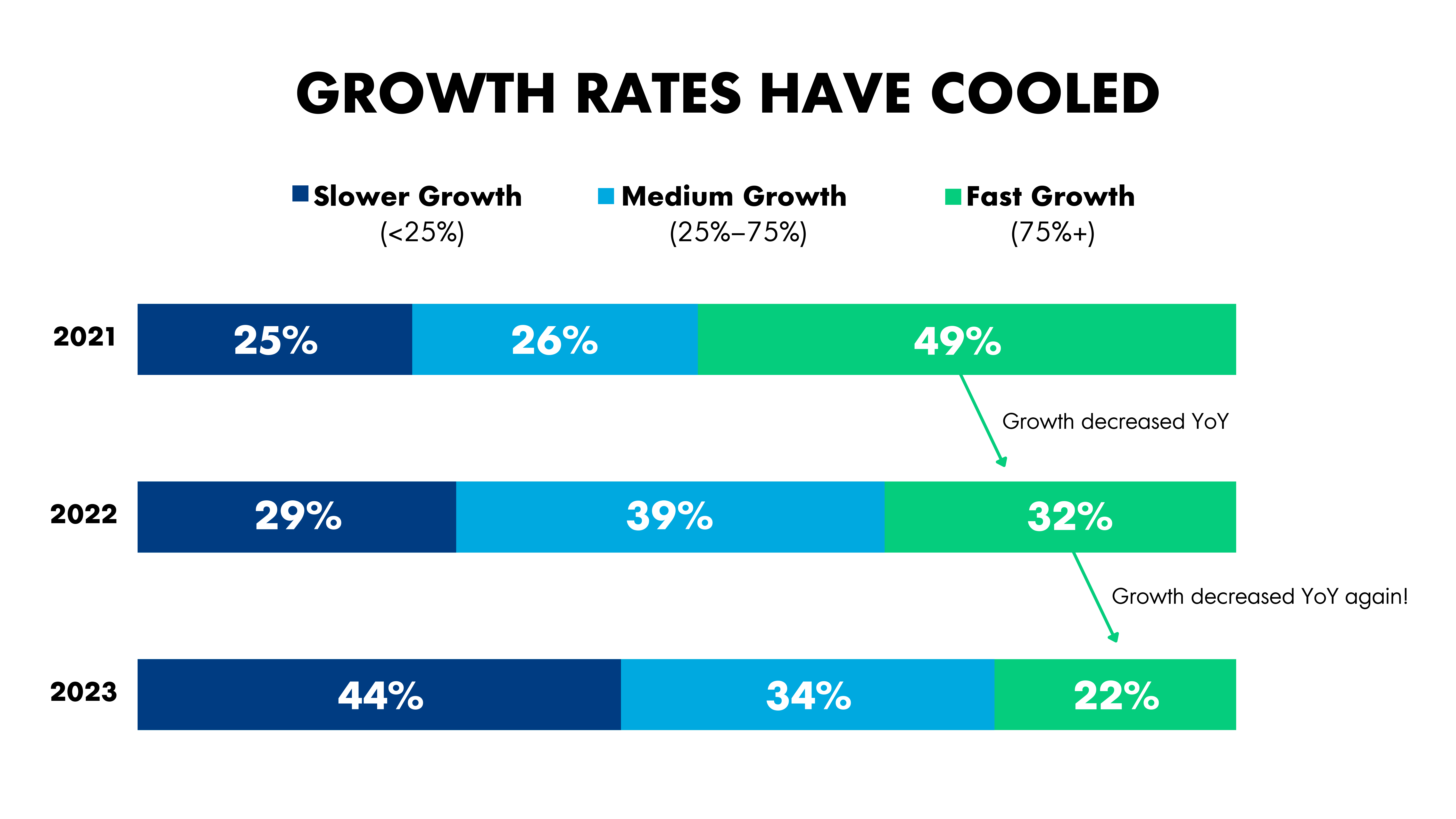 Growth rates have cooled. PLG companies have certainly not been immune. Last year our team unpacked the 11 principles of PLG, then used these principles to designate publicly traded companies as either PLG leaders (adopted 9+ principles), emerging PLG companies (adopted 4-8 principles), or traditional SaaS companies (adopted 0-3 principles).
At that time, the PLG leaders were growing at 50% year-on-year – more than double that of the traditional SaaS cohort (21% growth). Growth rates have since come down at an alarming rate. And PLG companies have seen a particularly precipitous decline.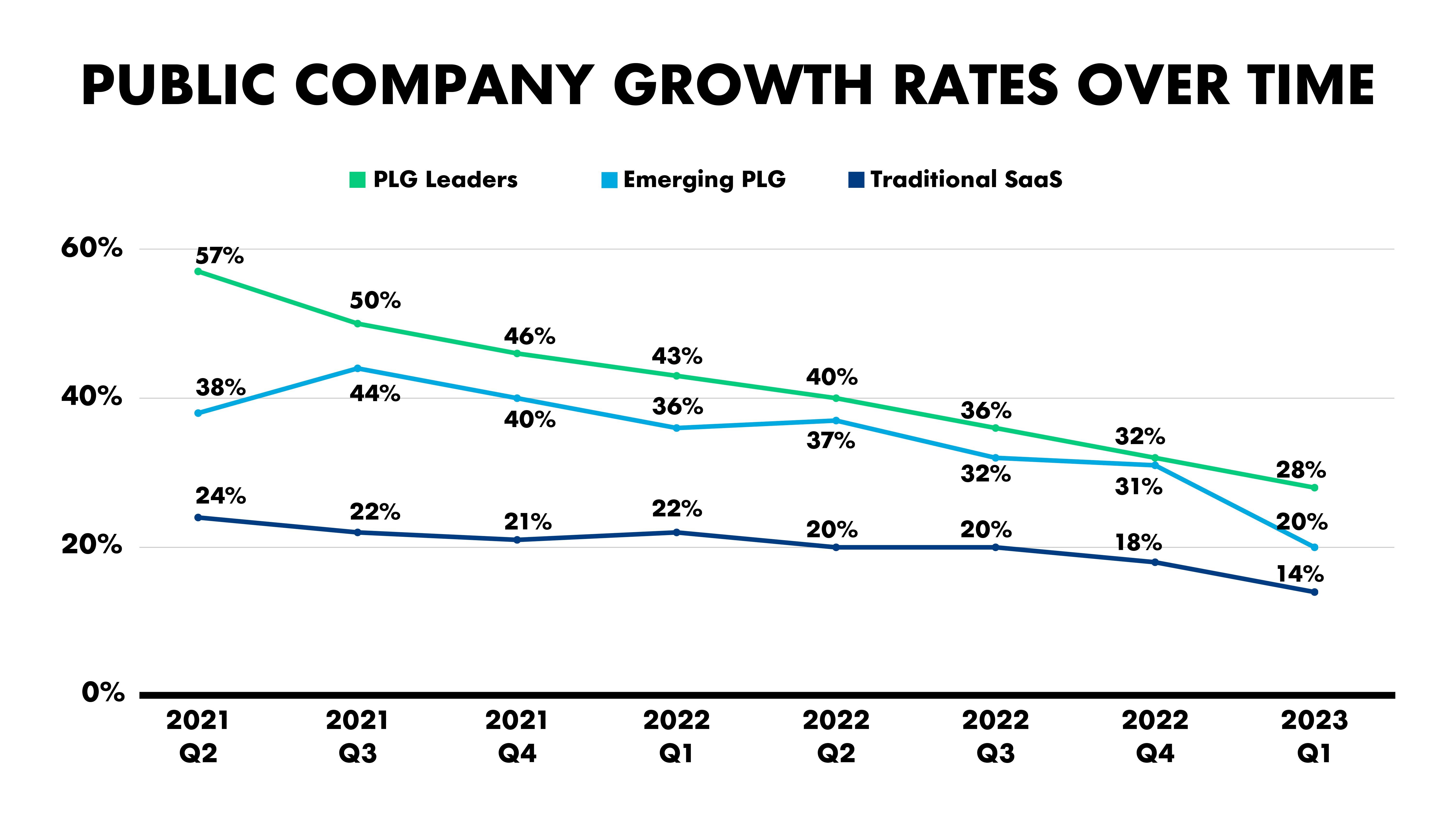 PLG companies have certainly not been immune. Still, the broader trend holds true. PLG leaders grew at twice the rate of traditional SaaS companies as of Q1. PLG remains an important part of the growth equation. Here's why we're bullish on PLG in a downturn:
Efficiency – De-labors the marketing, sales, and onboarding process, allowing businesses to grow independent of headcount.
Usage → Revenue – Budget-strapped customers can start at a low (or no) cost plan, effectively making a purchase decision on the basis of their product usage. The spend will come later.

PLG adoption: The next frontier
As PLG continues to rise in popularity, we can't help wondering: Is PLG a differentiator anymore?
Go ahead, pull up the websites of Atlassian, Datadog, DigitalOcean, HubSpot, Shopify or Snowflake. They have a generous free offering, an active community of users, and self-service on-ramp into their products. In mature SaaS categories like productivity or developer tooling, PLG is effectively table stakes.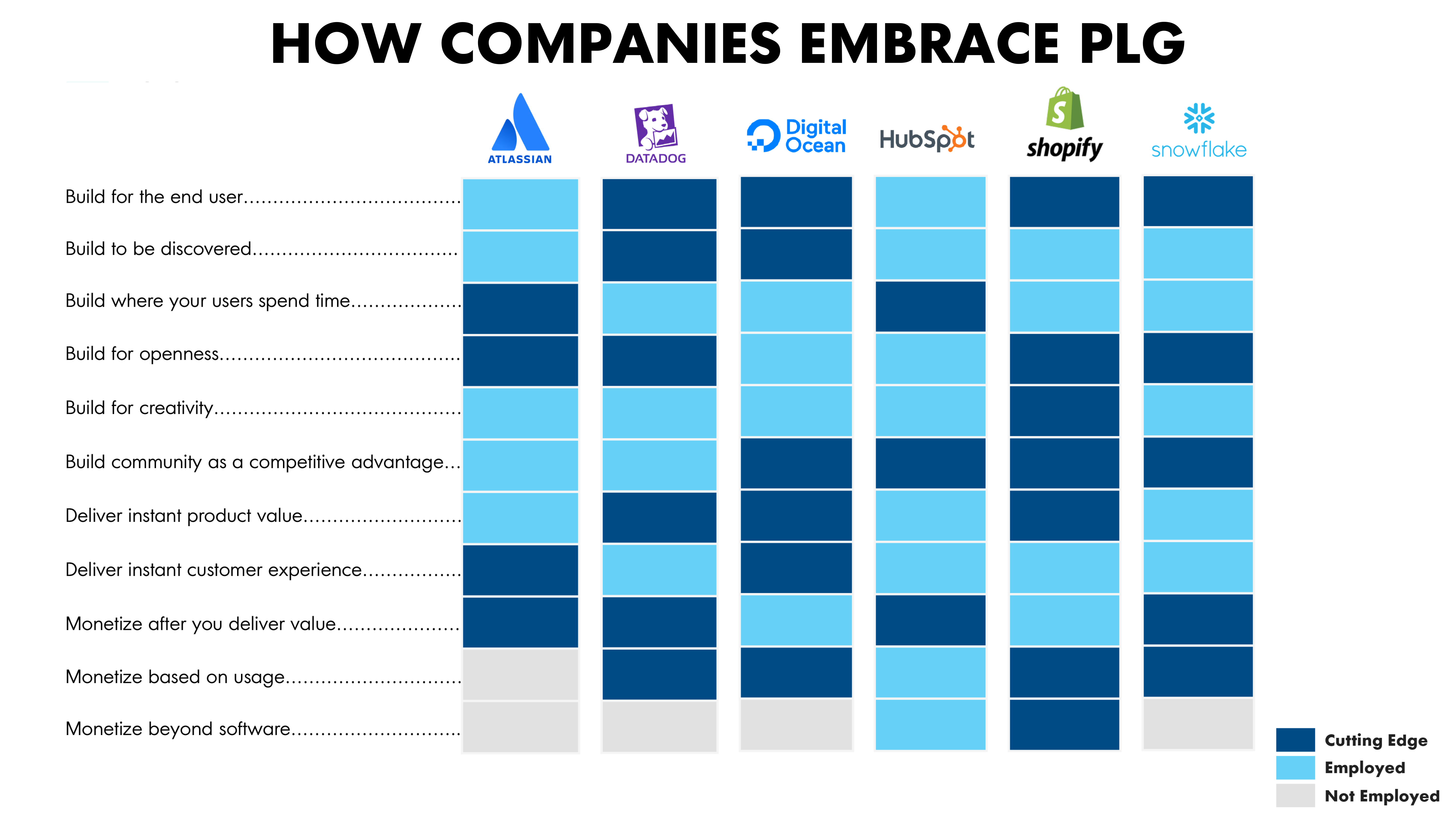 We investigated PLG adoption across two dimensions: the size of the target customer and the primary buyer of the product. Our definition of PLG here was admittedly simplistic – do users normally start with a product interaction (PLG) or a sales interaction (not PLG).
The data revealed a clear trend. PLG companies are emerging across the software landscape, including enterprise-focused software companies and vertical applications. It is now table stakes when selling to developers (no surprises there!) or very small businesses (#CAC). The slowest PLG adopters are in places that have less tech-forward buyer types or more stakeholders involved in the purchase decision.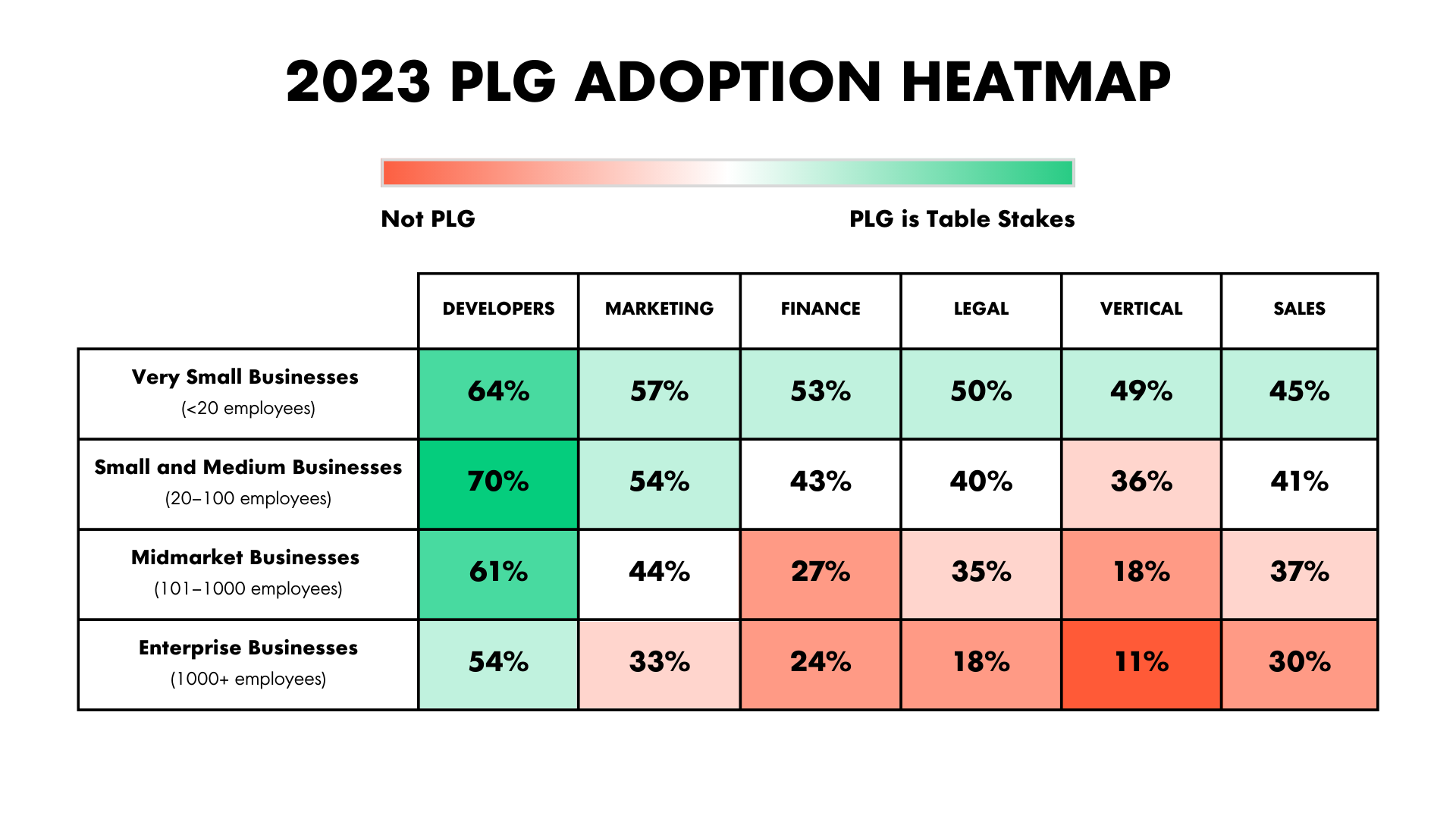 Your path to growth will depend on your position in this grid. If your company falls in one of the red spaces, PLG can be a competitive advantage and a way to disrupt an otherwise sales-dominated industry. There's a first-mover advantage for the innovator who enters these spaces with strong product-market fit. This also comes with its challenges as some behavioral changes are required to educate a traditional industry on a new way to buy.
If your company falls in a green space, you'll need to outcompete above and beyond PLG. Innovation might come in the form of finding a more scalable way to attract high-intent users at the top of the funnel or building community as a moat around your product.
The next generation of PLG
We recently spotlighted rising stars of the PLG movement. Check out who made the list in the inaugural PLG Rising 40.
Show me the winners

Growth levers: Getting back to growth
PLG is not the only growth lever to pay attention to. What else can influence a company's chances of becoming a fast-grower?
We looked at this question from every possible angle. It's not about promotion on Instagram or paid advertising on LinkedIn (#dislike). Over-relying on these paid acquisition sources is actually inversely correlated with fast growth. These channels may help generate pipeline in the near-term, but do not appear to drive lasting returns.The most influential lever took us somewhat by surprise: product-led sales maturity. Tracking product-qualified leads (PQLs) or product-qualified accounts (PQAs) increased the likelihood of fast growth by 61% (🤯)!
Looking at product interactions as a signal of intent helps you tailor your precious go-to-market resources to high-value accounts that are ready to buy. Having a product-led sales mindset isn't the exclusive purview of tried-and-true PLG businesses – nearly any SaaS company can employ these principles to both acquisition and expansion business.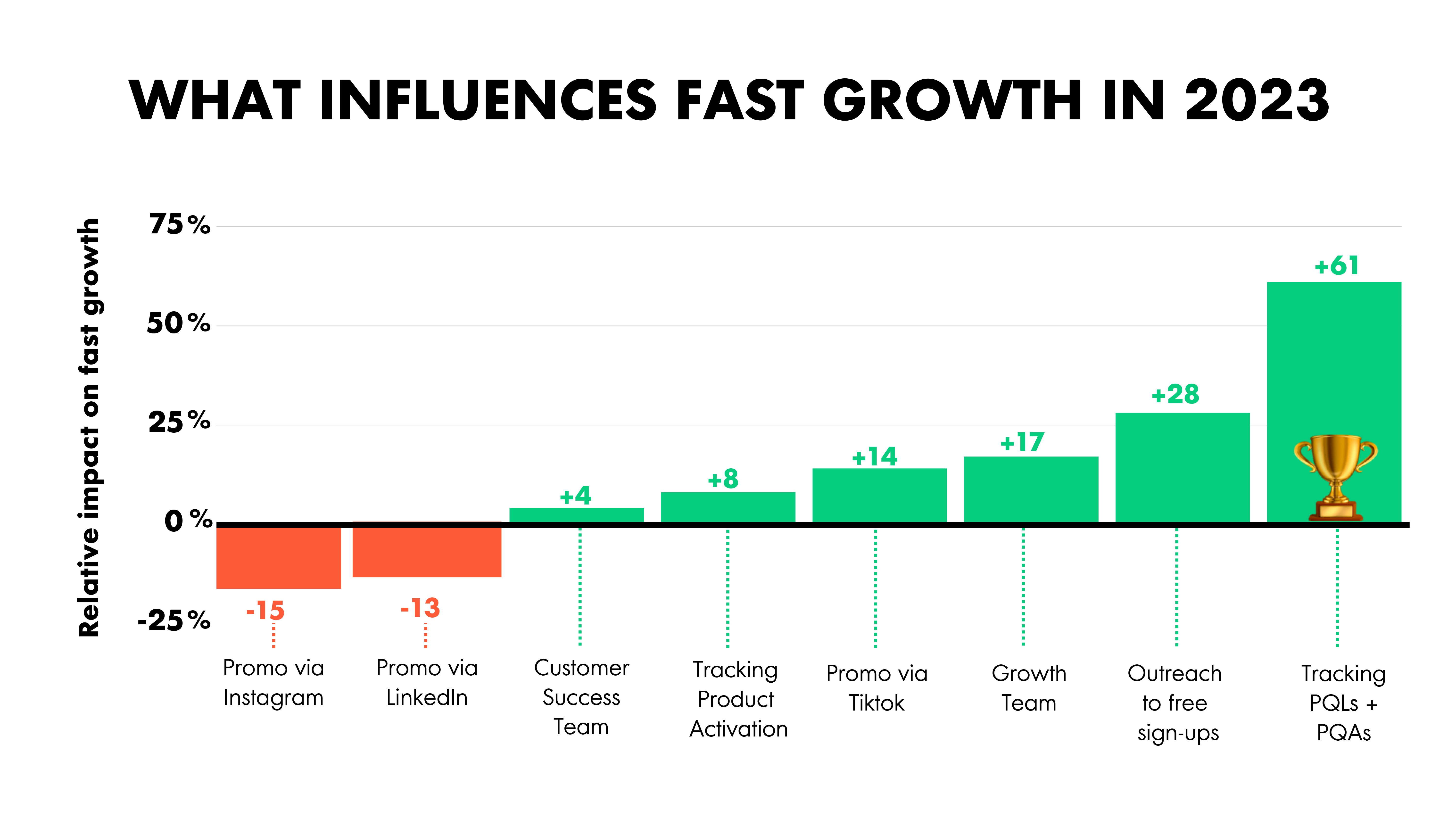 Other influential levers employed by the fastest-growing companies:
Conduct outreach to free sign-ups (+28%)
Have a dedicated growth or PLG team (+17%)
Use TikTok as a promotion channel (+14%)

Organization: PLG goes beyond product
Let's put an end to the misconception that PLG means product management-led growth.
The reality is that it's a company-wide strategy which requires inputs from nearly every part of the organization.
As SaaS companies look to do more with less, we couldn't help wondering: when is the right time to hire dedicated functions to take your growth to the next level?
The data shows that fewer than half of PLG companies have a sales team (47%) prior to hitting $1 million in ARR. In the early days, they're more likely to invest in customer success (57%).
Dedicated growth teams come after product-market fit, usually at $1-5M ARR. By this point 73% of PLG companies have hired for sales as well.
Analytics teams come next – 34% of PLG companies have this team at $1-5M in ARR while 58% have it at $5-20M. Monetization teams come later, typically after $20M ARR.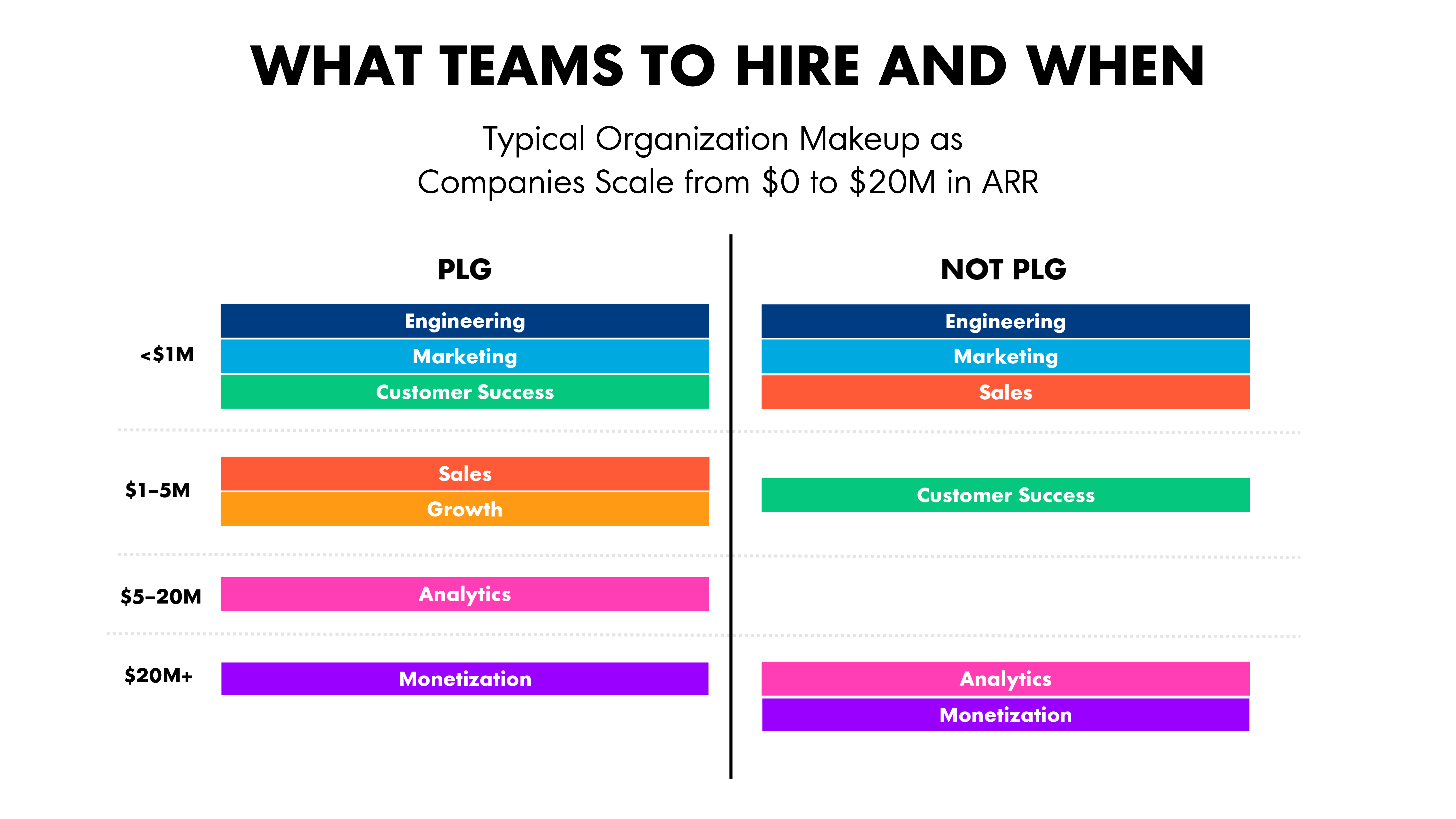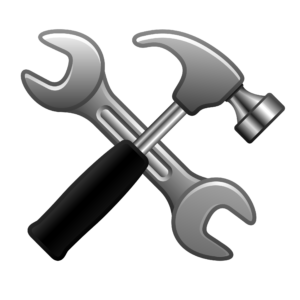 PLG tech: The modern toolset
PLG is becoming a mature category with a cottage industry of enabling technology. Rather than build everything with your own developer resources, why not accelerate your efforts with off-the-shelf tooling?
We've been tracking dozens of emerging vendors in the modern PLG tech stack. Deciding where to start can be overwhelming even for the most sophisticated operator. In our experience, tools fall into six categories: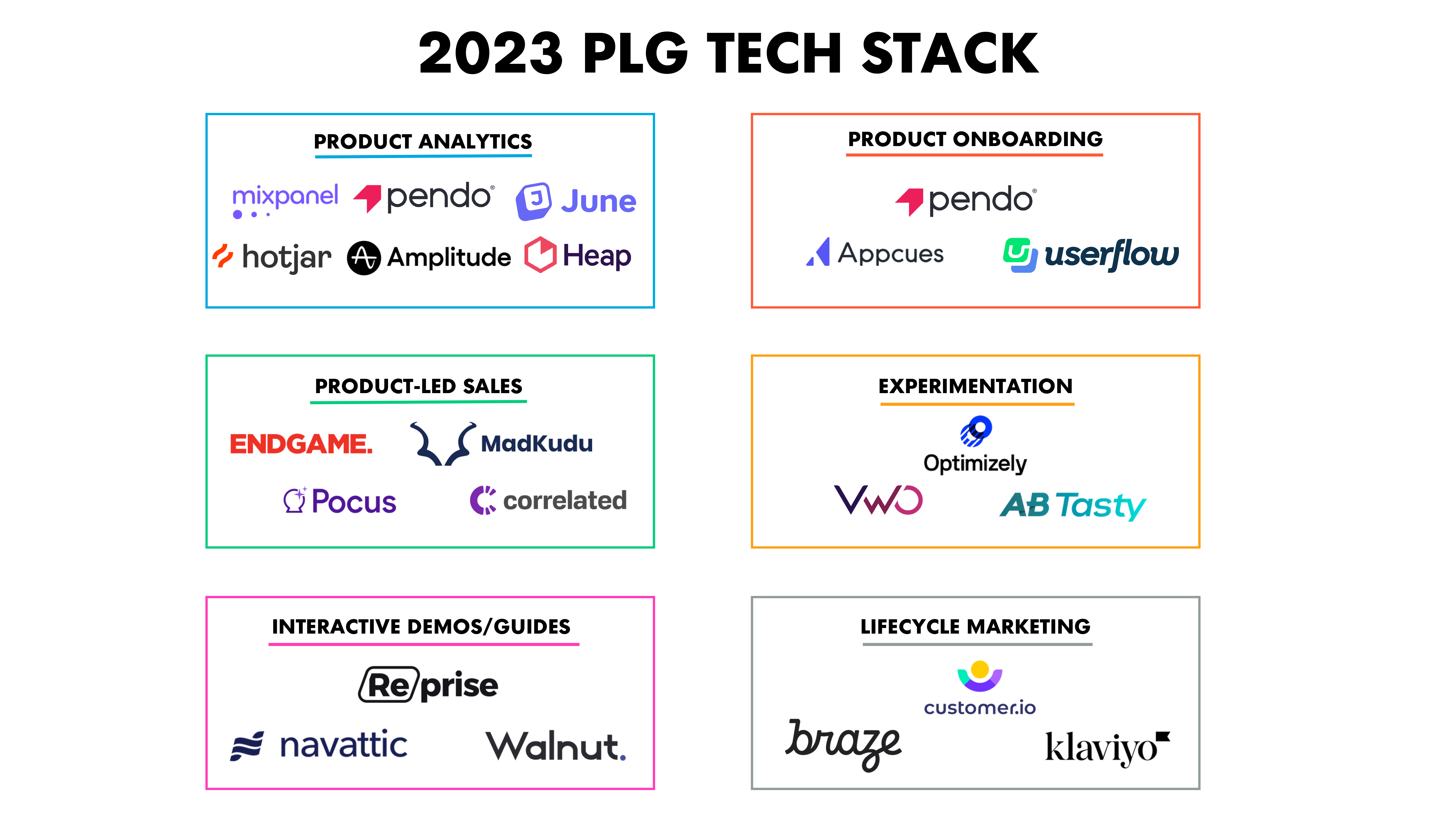 PLG companies adopt tools from 1-2 of these categories even before they've hit their first $1 million in ARR. By $20 million in ARR, they've usually adopted tools from three categories – and perhaps built internal tooling for the remaining functions.
Product analytics tooling is by far the most popular starting point for both PLG and non-PLG businesses. Among companies with less than $1 million in ARR, 62% of PLG and 42% of non-PLG folks have already invested in a product analytics tool. This shouldn't come as a surprise; in order to turn your product into a growth engine, you need visibility into what users are doing inside your product.
From there, traditional SaaS companies must decide what software to use and when.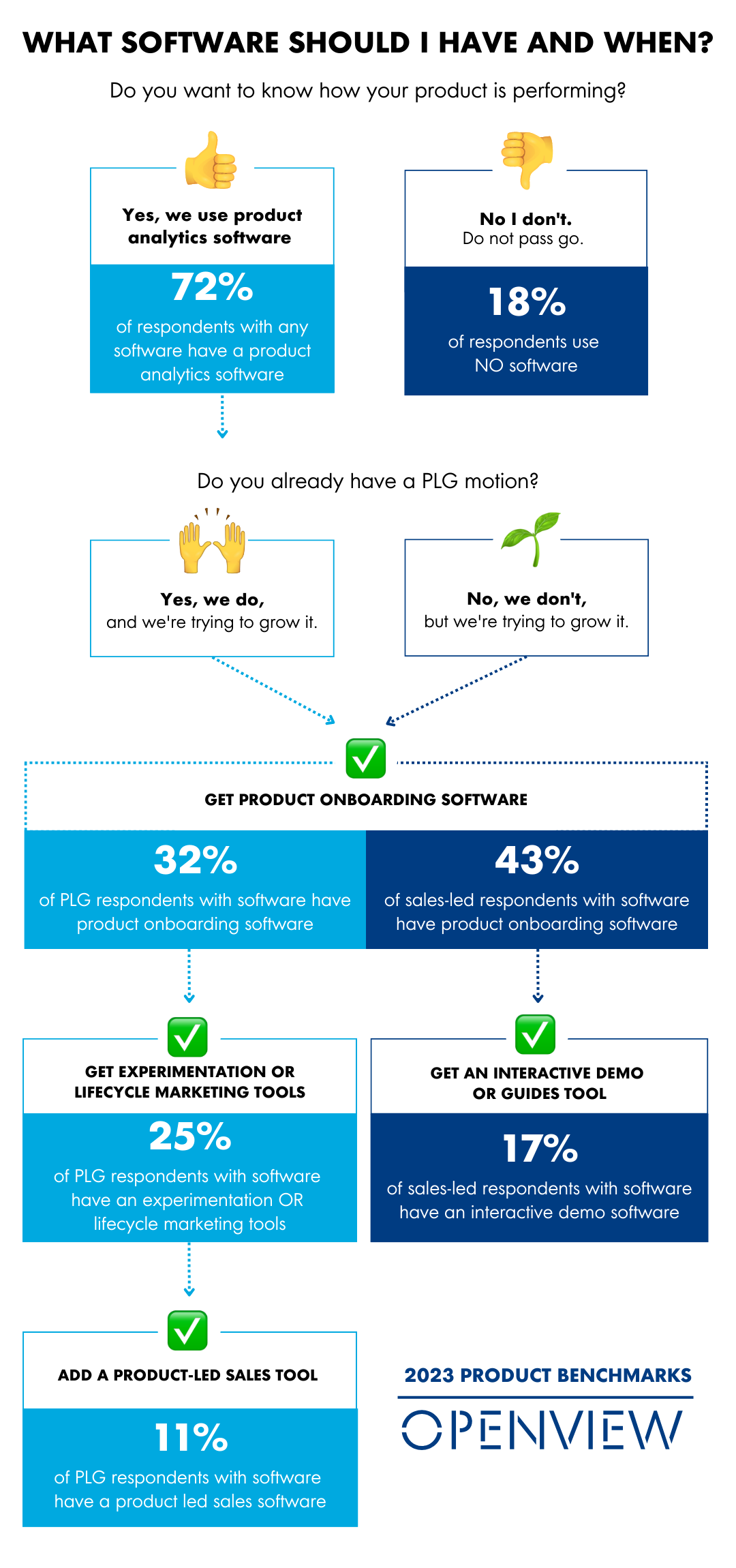 Conclusion
See how 1,000+ leaders responded to this year's survey

See how 1,000+ leaders responded to this year's survey
Don't forget to download the full report for even more objective data to turn product usage into efficient growth.
Note: Some of the companies referenced in the report are OV portfolio companies. For a full list, please see our website. Also, OpenView is the source of all the data featured in this report, unless otherwise specified.