Upcoming Webinar: 5 Ways to Communicate Value and ROI 
It's no surprise to sales and marketing professionals, that the ability to articulate the value of your product is paramount to closing a deal. But knowing exactly how to frame and build a case for ROI is easier said than done. According to SiriusDecisions, the #1 issue preventing salespeople from achieving quota is their inability to communicate value.
Today's customers and prospects are savvier than ever. By the time a sales rep gets them live on a call or demo, they have already educated themselves on why exactly they need a particular solution. And now, it is the role of the sales rep to sell them on why their product is a better option that that of their competitions. How? Well, relationships have a time and a place in the sales cycle, however the sales rep is really responsible for articulating the value of their company and product in the most meaningful way possible.
OpenView has teamed up with Mike Genstil, CEO and Founder of VisualizeROI, for a webinar on how you and your team can consistently communicate value and ROI to your key prospects.
Rising Above the Noise: 5 Ways to Communicate Value and ROI
This 45 minute session with talk inform attendees on how exactly to:
Quantify Pain
Communicate ROI Visually
Do It Early, Often, and Through Renewal
Use the Right Metrics with the Right Person
Integrate with Data Sets and Existing Systems to Automate
Our featured Speaker and Host: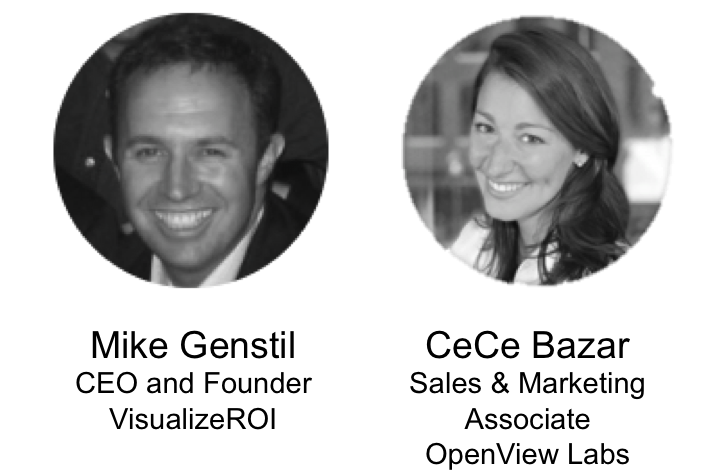 Mike Genstil, founder of VisualizeROI, held various roles in strategy consulting, product management, business development, and channel sales at Adobe Systems, Lycos, eCredit.com, Liberty Mutual, and CDI (acquired by Mercer). When his last software company was acquired by SAP in 2006, Mike became an entrepreneur. His first company, eRealInvestor, simplified the process of searching for and analyzing real estate opportunities. Mike obtained an MBA at Harvard, as well as an MS in industrial engineering and a BS in computer science from Stanford University, where he graduated Phi Beta Kappa.
Don't let ROI be a sticking point again. Sign up for our free webinar to learn more about the frameworks and best practices your team can implement to shorten your sales cycle and educate your prospects on the distinct value of your product.
Subscribe & Scale
Sign up for our newsletter
Sign up for our newsletter