Averages Lie, and 4 Other Marketing Lessons From PagerDuty's Julie Herendeen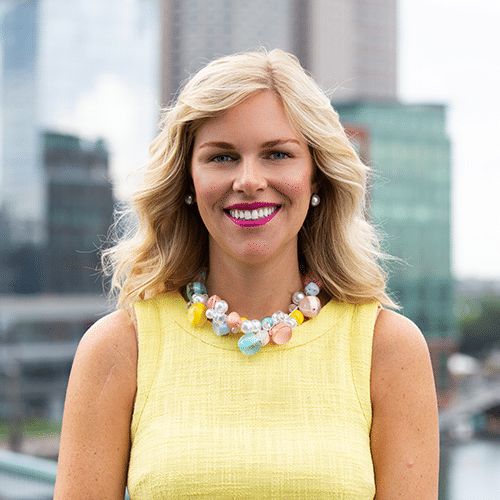 When Julie Herendeen graduated from Harvard Business School, she set her sights on landing a marketing job at Apple. LinkedIn wasn't a thing at the time, so she camped out in Apple's lobby and started cold-calling people for an interview.
Eventually an employee named Ivy came out and gave Julie some disappointing news: Apple wasn't hiring marketers. "But why don't you try to apply as a product manager?" Ivy asked.
With Ivy's help, Julie changed her résumé and wound up getting the job—a role she credits to this day for her unique perspective as a Chief Marketing Officer.
"Marketing is really about bringing together the customer, the product, and the business. And I think all great marketing starts with an understanding of customers' problems, and then how they experience value through the product. All of your marketing needs to reflect that," Julie says. "Starting as a product manager has helped keep me grounded in how I think about the magic moment that happens with the customer and the product, and how you add value to what they're doing."
"All great marketing starts with an understanding of customers' problems."
After picking up lots of product experience, Julie went on to work in marketing at several companies, including Lookout and Dropbox. She's currently CMO at PagerDuty, the leader in digital operations management.
In our conversation for the BUILDing To Boss podcast, Julie and I covered a lot of territory. Listen to the full episode below, or scroll down to read a few of the marketing-specific insights she's picked up over the years while leading some of the best teams in tech.
Data is good, but customers can tell you the darnedest things
Julie loves that software companies have access to data that helps teams fully understand the customer journey. She sees data points as an entry into even deeper ongoing learning. "When you see something in the data, it's a thread you pull on," she explains. "It's a question you ask."
But Julie also cautions that averages lie. For example, one company she worked with had a crisis when their NPS dropped suddenly. Instead of jumping into troubleshooting the product, Julie turned to the data. By sub-segmenting the responses, she uncovered the truth hidden behind the average: The drop in NPS was related to a customer service problem in Latin America. That single, isolated, and regional issue was pulling down the whole average.
"Averages lie."
Julie is also a big proponent of speaking with customers. "Every time I talk to the customer, I always gain an important insight that I would never have seen through the quantitative data," she says. "Customers can tell you the darnedest things."
On top of uncovering crucial information, conversations with customers help build empathy and give teams a better idea of what's really going on in their world.
Alignment isn't just a concept, it's an important reality
One piece of advice Julie would give her younger self: Understand the role of alignment.
"You're just not going to be as successful if you don't have alignment around the customers you're going after, and the go-to-market you're building," she says. "A big part of my role as a leader is to make sure I'm helping drive that alignment across the organization, because that's what's going to drive success for everybody."
When teams aren't aligned around the same goals and objectives, everyone pulls in opposite directions—and the whole machine comes to a grinding halt.
Measuring success effectively requires infrastructure
"Marketers must be aligned with the business metrics of the company," Julie says. "So, it's really important that you work with your marketing team to help them ladder up to the company's metrics."
This means making sure that everyone on the marketing team understands exactly how they contribute to the business metrics. Connect the dots between day-to-day tasks, the larger marketing strategy, and the big picture of the overall business. To do this, you must be able to break things down. For example, what are the leading indicators and the lagging indicators?
Related read: Growth Isn't an Assembly Line
To measure success, Julie puts a lot of emphasis on building data infrastructure that provides visibility into exactly what's happening at each stage of the funnel. In turn, this helps the marketing team align with their partners on the product and sales teams.
"The reality is that you're sharing and creating the customer journey across all these teams," she explains. "You need to measure things in the same way across the board so you're all building up to the same company-level KPIs."
Being a great leader is about helping others succeed
Julie thinks of herself as a "service leader"—someone who provides support and enablement so her team can step up and excel. In that role, her main function is to set a clear strategy, make sure everyone is aligned, motivate individuals by giving them a path to personal success, and then help them achieve that success by providing necessary resources and removing obstacles.
A lot of success hinges on clear and frequent communication. In addition to making sure everyone understands the strategy and knows what their job is within that strategy, Julie also helps her team stay close to the customer. "The closer your team can be to the customer," she notes, "the better the decisions they'll make."
This style of leadership works well for Julie because she's passionate about helping people find success in their careers. She takes a lot of pride in having mentored and supported some great CMOs across the industry. Her method includes helping people get experience outside of their domain.
"The closer your team can be to the customer, the better the decisions they'll make."
"A lot of marketers grow up in a really specific domain," she says. "But to excel, you need to be 'T-shaped,' which means having deep expertise in your core area, but also having lighter experience in other, flanking areas."
For example, someone running corporate communications might also want to get experience in brand, and someone running digital marketing might also want to get exposure to product marketing. Marketers usually have to wear a lot of hats, so it makes sense to gather as much experience as possible.
Ask for help
"Marketing is hard. It's constantly changing with new technologies, and you have to be a data scientist as well as an analytics person. You have to be able to build the narrative and run great creative," Julie says. "It's important for marketers to build their own community and create their own 'little black book' of people they can call for help."
Which leads her to another key bit of advice: It's okay to ask for help. In fact, she says that asking for help is a sign of a great leader. "You do so much better when you reach out to your peers to ask questions," she says. "You'll often find that they're going through the same things you're going through."
More from Julie Herendeen
Tune into the full episode of BUILDing To Boss to hear more about the role of product-led growth in her transition from B2C to B2B, the marketing value of going through an IPO, and the importance of inclusivity in the SaaS world.