The Best SaaS Conferences to Attend in 2021 (Updated Regularly)
While we don't know exactly when it'll be safe to resume holding in-person events and conferences, we're very much looking forward to it. There's just something so special (and exhausting!) about gathering in one place together with industry colleagues who are all looking to learn, innovate, connect, and score some cool swag.
And the free coffee. We really miss the free coffee.
The good news is that there are lots of fantastic virtual SaaS conferences coming up that'll still offer the chance to meet new people and grow. And growth should absolutely be everyone's focus in 2021—the SaaS industry is on track to hit its estimated $37.9 billion market projection by the end of 2021.
Related read: Getting Back to Hyper-Growth
To save you time, we've rounded up some of our favorite 2021 SaaS conferences below. We'll continue adding to this list as organizers announce more events. And if there's one you're going to that isn't listed here, let us know so we can add it.
February

Startup Grind Global Conference
When: February 22-25, 2021
Where: Online
What to expect: From the conference's website: "4 days, 7 key themes, over 100 workshops, roundtables, keynotes, and fireside chats focused on helping startups and innovative teams learn, grow, and scale in today's evolving tech ecosystem." If you aren't able to get your work to pay for a ticket, Startup Grind's choose-what-you-pay model makes this one of the most accessible events.

SaaStock Remote
When: February 23-25, 2021
Where: Online
What to expect: SaaStock brings together SaaS founders, executives, and investors to share their experiences and tactics in a series of practical content sessions and workshops. Past speakers include industry leaders from Hotjar, Drift, and Intercom.

ProductCon: The Product Management Conference, Diversity and Inclusion
When: February 18th, 2021
Where: Online
What to expect: Hosted by Product School, ProductCon gathers over 15,000 product leaders from all over the world. The Diversity and Inclusion edition highlights product leaders from diverse backgrounds. You'll learn from inspirational heads of product, VPs, and CPOs from tech giants such as Amazon, Netflix, Spotify, and more.
March

SXSW Online
When: March 16-20, 2021
Where: Online
What to expect: SXSW (South by Southwest) attracts key industry players in business, tech, education, music, and entertainment. Together, they discuss the changing trends in B2B (and B2C) tech-driven products and services in the marketplace. Topics are organized into three tracks: Interactive, Film, and Music.

Business of Software, Europe
When: March 22-23, 2021
Where: Online
What to expect: Business of Software (BoS Europe) is a two-day gathering of the brightest minds in the SaaS industry. Attendees connect with and learn from experts and their peers, as they learn to build better products and grow their businesses.
April

Adobe Summit
When: April 13-15, 2021
Where: Online
What to expect: Adobe Summit is a three-day conference that helps SaaS marketing executives, content managers, and advertisers learn how to combine data and design to create memorable experiences for customers. There will be 200 sessions and training workshops across 10 session tracks from top brands like AT&T, Deloitte Digital, HP, Microsoft, and NBC.

Content Marketing Annual Conference
When: April 27-29, 2021
Where: Live in Boston | Virtual in CMC 365
What to Expect: This conference is perfect for anyone in the SaaS world who wants a thorough education in content marketing as well as networking opportunities with the best in the SaaS industry. With 70 speakers, 50 sessions, 10 workshops, 10 keynote speakers, and 10 tracks, CMC will cover content planning, creation, optimization, distribution, and performance.
May

IBM Think 2021
When: May 2021
Where: Online
What to expect: IBM Think is a huge opportunity for IT professionals to learn about the latest advancements in AI, data, blockchain, IoT, IT infrastructure, security matters, and more.
June

Dublin Tech Summit
When: June 17th, 2021
Where: Online
What to expect: 80+ influential tech/business leaders from over 70 countries will come together to share knowledge and debate the latest trends. SaaS founders, executives, and anyone interested in scaling their startup and making a global impact should go.
July

MozCon
When: July 11-14, 2021
Where: Online
What to Expect: Sessions will cover SEO, analytics, content marketing, social media, and customer experience.If you're a content marketer, CMO, agency employee (with a specialization in content, SEO, and analytics), or a marketing consultant, mark your calendar.

Product-Led Summit—Virtual
When: July 26-28, 2021
Where: Online
What to expect: Over 50 PLG leaders will share their knowledge on how to build a thriving product led growth company.
September

INBOUND 2021
When: September 7-10, 2021
Where: Online (and in Boston—tentative)
What to expect: Hosted by HubSpot, INBOUND features engaging keynote speakers, innovative sessions by marketing gurus, interesting breakouts, and countless chances to network.HubSpot users/non-users, marketing executives, and any level of marketer should consider going.

SaaStr Annual 2021
When: September 28-29, 2021
Where: Online
What to expect: SaaStr Annual is for SaaS founders, executives (VP, CMO, COO), and entrepreneurs looking to get actionable advice to grow their business from $0 to $100M ARR. Expect over 100 executives from companies like Slack, Zoom, Intercom, and Stripe—plus 25+ AMAs with top industry experts, 100+ workshops, happy hours, and lots more.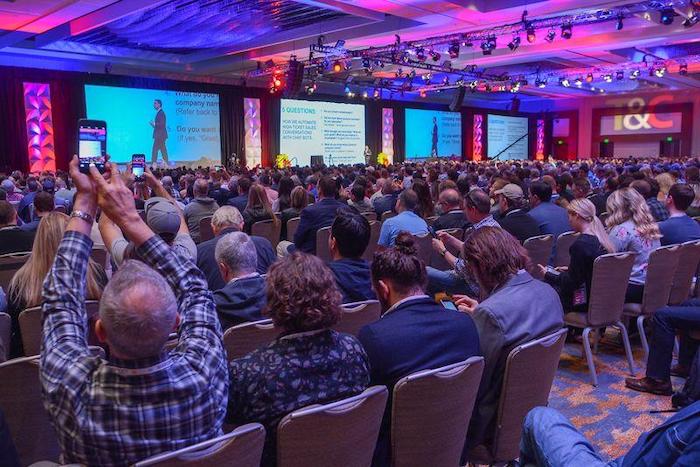 Traffic & Conversion Summit
When: September 13–15, 2021
Where: TBD
What to expect: Find out what's new and hot in marketing—and what actually moves the needle.
October and beyond
We'll keep updating this list as more and more 2021 SaaS conferences are announced—so go ahead and bookmark this page.
Editor's note: This post was originally published on January 5, 2021, and was updated with new events on February 8, 2021.
How do you find and hire a sales leader who can thrive in today's rocky selling environment. Expert Amy Volas lays it out here.
Last week, we launched our second annual State of SaaS Talent Report. The goal of this report remains the same...
As a startup founder, you've got a lot in common with a new parent. You're both nurturing something wonderful but...
Subscribe & Scale
Sign up for our newsletter
Sign up for our newsletter