The Key to Happier Customers? Customer Success and Product Management Alignment.
The sophistication of marketing automation tools combined with a strategic focus on sales and marketing alignment for B2B and SaaS companies have helped companies do an excellent job at the top of the funnel to create a seamless journey from prospect to buyer.
However, once the sale is made, the challenge becomes moving customers beyond the initial purchase point through the customer journey from adoption to advocacy. Understanding and optimizing the customer journey is just as important as understanding and optimizing the buyer journey as it exposes new opportunities for growth long after the sales and marketing funnel ends. But once the purchase is made, post-sales teams, like customer success and product management, struggle to provide customers with the same level of care. That's why these customer-facing teams must be aligned to develop and work toward strategies that give customers the best experience or, as Lincoln Murphy calls it, their "Desired Outcome."
In our initial research on this topic of post-sales alignment, we found very little information or discussion. We wanted to know: what does such alignment look like? Can we produce a true map of alignment today and the steps needed to improve going forward? To answer these questions, we surveyed customer success and product management leaders across small and large B2B SaaS organizations in various industries and published the first 2017 Benchmarking Report for Customer Success and Product Management Alignment.
In the report, we uncovered four key benchmarks that define the outlook of successful alignment between customer success and product management teams. Here is an extract of our findings as well as actionable areas for improvement.
Benchmark #1: Successfully aligned Customer Success + Product teams have shared touchpoints in the customer journey
It's normal for different teams to have distinct responsibilities, but this doesn't mean there's no room for shared touchpoints throughout the customer journey. For instance, the onboarding process is a perfect opportunity to leverage the individual expertise of each team toward a common goal. Product managers can help customer success teams reduce time-to-value for customers through product-driven initiatives, and customer success teams can facilitate long-term success and are at the front lines to gather and share valuable product feedback.
However, our study revealed that in 62% of cases, customer success teams are solely responsible for onboarding new users, and 85.8% of them use high-touch methods to onboard. This indicates that, for the majority of SaaS businesses, there is a clear need for product management and customer success to join forces and introduce software-powered onboarding solutions that ultimately drive product value and adoption for the customer.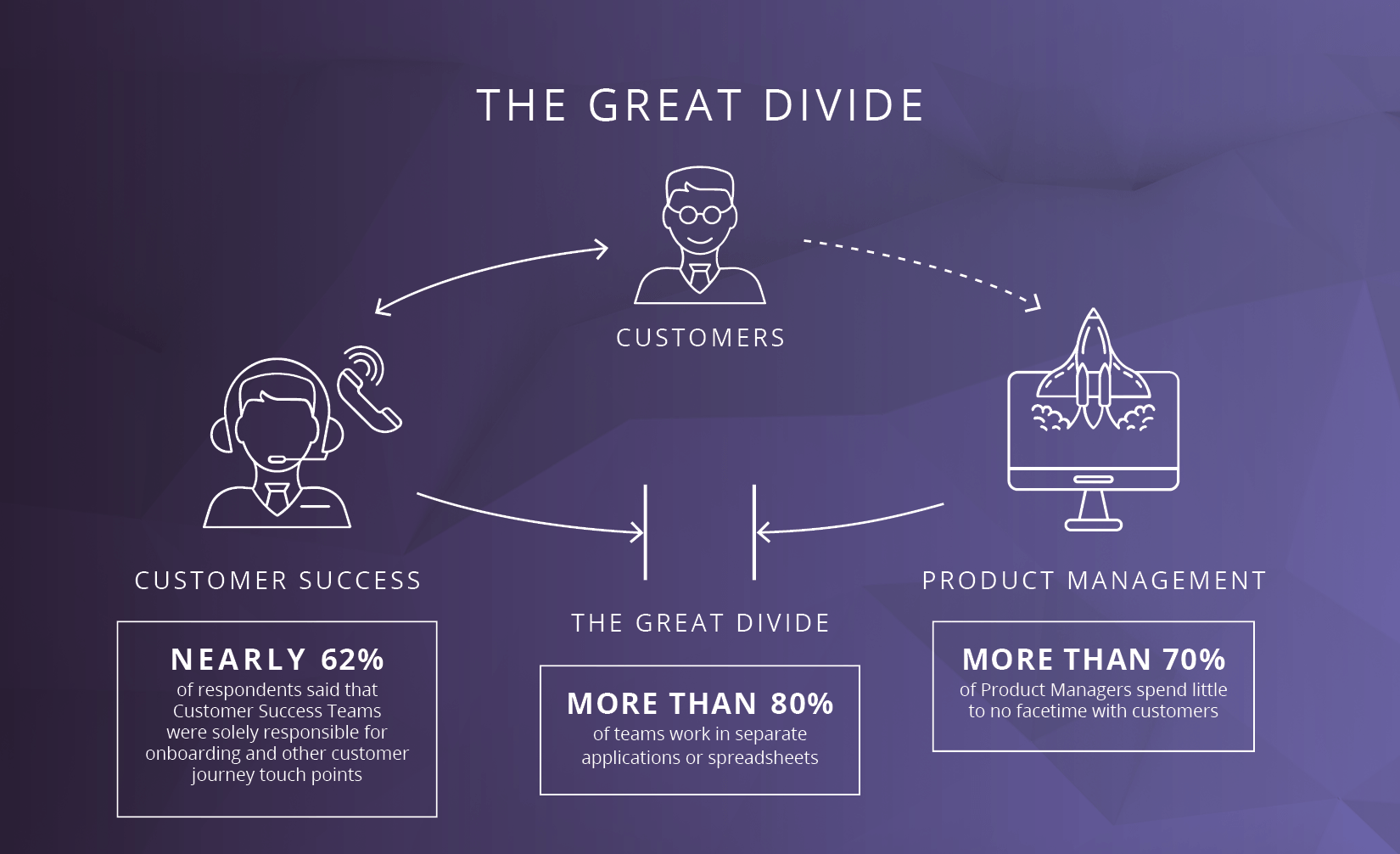 But there are challenges along the way too. Product managers must learn to think about the "getting started" experience as part of their product design, and understand how it will influence adoption and retention for customers. And because proper onboarding and adoption strategies are critical to success in the retention, expansion, and advocacy stages, customer success teams need to be able to gather data that enables them to understand sticky opportunities to upsell. By sharing an investment in optimizing these touchpoints throughout the customer journey, starting with adoption, both teams and the customer enjoy a much smoother experience.
Benchmark #2: Successfully aligned Customer Success + Product Management teams have the right tools in place to democratize valuable customer data
78% of our respondents mention that they are satisfied with their current technology solutions. But what's interesting is that more than 50% of them also state they're using separate software applications for customer success and product management teams – not to mention that 27% have at least one department managing their efforts manually in spreadsheets.
These findings indicate that most organizations are missing out on the benefits of integrated solutions. When product and customer teams use separate applications, they generate disparate data sets. These various sources tend to favor siloed thinking since it's not easy for employees working in one department to quickly gain access to customer information specific to the other. This requires one department requesting data from the other and waiting for answers, which is certainly not conducive to proactivity or overall customer interest. But even if they could easily access that data, other issues are likely to present themselves. For instance, it would take an enormous amount of time to cross-reference various sources of customer data from different applications. There are simply too many manual operations and too much guesswork involved for this to be an effective strategy in uncovering trends.
The fact is that SaaS businesses will struggle to focus on strategic alignment in the customer journey if they lack a common source of truth to capture, prioritize and act on product data, and the ones who suffer most are customers. Customer growth solutions serving as a primary source of insight would, in contrast, mitigate not only this problem but also bring transparency and a shared language between customer success and product managers. Both teams could access a dashboard tailored to their requirements and see firsthand the friction points existing throughout the customer journey all from the same sets of data.
Benchmark #3: Successfully aligned Customer Success + Product Management teams have clear, target customers and a long-term strategic plan
Business leaders know that it's impossible to guide a company effectively when teams have different views on expectations and don't move in the same direction. Unsurprisingly, 88% of our respondents stated that understanding customer needs is the most important factor in creating alignment. However, we found that roughly one-third of SaaS businesses actually feel least aligned on who their ideal customer is.
This shows a dissonance between what is required to ensure the success of customers and what is actually happening in organizations today. In other words, customer success and product teams are working to retain users without a shared understanding of who the user is or how to make them successful. This leaves room for error and disconnect that can negatively impact the customer's experience. Beyond that, while 33% of the organizations surveyed do have weekly meetings, most of them only discuss their roadmap quarterly. For SaaS businesses whose viability depends on achieving customer growth by staying in tune with their market and user needs, this is not enough.
Open lines of communication about customer needs and product value must be established for teams to be forward-thinking. In our research, we discovered that although product and customer success teams are meeting face-to-face often, they are spending more time discussing reactive issues, like bug fixes and customer support tickets, than exploring strategic and proactive initiatives toward growth.
Benchmark #4: Successfully aligned Customer Success + Product Management teams have consistent communication and shared metrics in place
Product managers don't have the time to take part in high-touch activities, and are often even excluded from customer-facing efforts, which causes them to become disconnected from customers and market needs. We've quantified that trend in our survey as 70% of product managers say they spend spend little to no face time with customers. Instead, they rely on their customer success team for daily or on-demand feedback in 46% of the SaaS businesses we surveyed.
This creates too much room for misinterpretation that can be detrimental to the customer's experience and success. So how can companies raise the bar and ensure better communication? Some approaches taken by our respondents include implementing Service Level Agreements (SLAs) or specifying shared metrics for success, such as churn rate, trial conversion rate, adoption rate, or Customer Lifetime Value (CLTV).
These practices naturally lead to improved communication between product and customer success teams, and they can take various forms. For example, one way for product managers to become more involved with customers is to join customer calls which already happen regularly with customer success. These allow product teams to dedicate enough time to interactions with customers and gathering clear user feedback. In turn, product and customer success managers who are both closer to users can start following a voice-of-the-customer (VOC) program and better focus on their needs in a structured way to prioritize product development plans.
Learn more about Customer Success + Product Management team alignment
Aligning product management and customer success teams has become essential for SaaS businesses to tackle user needs and drive growth proactively. But the concept of alignment and what it actually means is still new and undocumented.
That's why we've conducted this study around the relevant key aspects – shared touchpoints, having the right tools, clearly defined customer targets, consistent communication and shared metrics— to assess the current state of the SaaS industry and formulate benchmarks for tomorrow. Check out our full Customer Success + Product Management Alignment Survey Report (as a bonus, you'll also receive tips from OpenView) to learn more about how customer success and product management alignment in your organization stacks up to best-in-class companies.
Subscribe & Scale
Sign up for our newsletter
Sign up for our newsletter