Managers Do Things Right, but Leaders Do the Right Things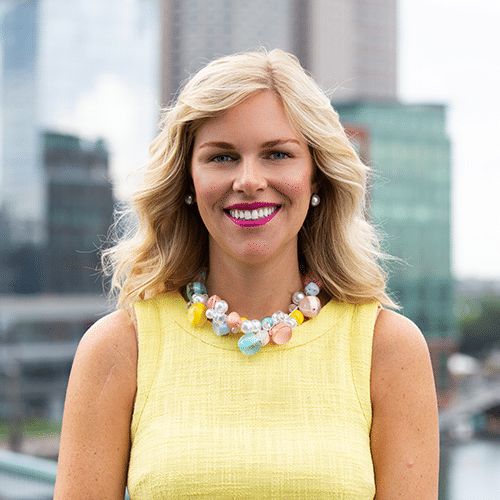 We talk a lot about building products and companies here at OpenView, but there's also a lot to be said on the topic of building a career, a strong team, or a far-reaching network.
For our BUILDing To Boss podcast, I sat down with Anne DelSanto, whose career has included positions at IBM, Oracle, and most recently Salesforce where she was the GM of Platform. Today, she guides a new generation of companies as an independent board director with a unique and experienced voice.
Anne's journey began with a love of technology and problem solving, which led to an internship with IBM in Manhattan working with a systems engineer. She transitioned into a solution engineer, a role that sits at the crossroads of sales and product, which gave her the opportunity to do more of what she loved: discussing business challenges and crafting corresponding technology solutions.
Throughout the almost four decades of her career (so far!), Anne has been intentional and strategic about building not only her own career, but also multidisciplinary teams and a women's network at Oracle. And now, as an independent board member, she's working to build the kind of boards that will help their companies envision and claim the future.
Our conversation, like Anne's career, covered a lot of ground; but I was particularly fascinated to learn about her thoughts on building teams and networks. Listen to the episode below or scroll down to read the rest of this story.
Pretty much everyone I've ever talked to has war stories about how they bring disparate teams together to ensure effective synergies and align metrics. It's a universal challenge that can make or break an organization. How do you get design to work with sales, or engineering to work with customer success?
Anne's opinion is that the entire industry is on a trajectory away from the traditional silo-based company structure to something that is flatter and more integrated. But her secret to helping teams thrive in the new environment has less to do with organizational structure and more to do with looking out for the people on your team.
"I've found that the key to effective cross-organizational work is to champion the career development of the people in whose careers I have a stake," says Anne. "I looked for ways to grow their careers, whether the opportunity was in my organization or somewhere else."
"Developing the best people in your organization sometimes means helping them land a job in a different organization."
To this end, Anne hosted forums for product and SE teams to not only build better products, but also to build stronger cross-functional networks. She also connected sales executives with solution engineers to facilitate a productive dialog about findings, segmentation, and other insights that could help them collectively decide where to invest their sales efforts.
"Developing the best people in your organization sometimes means helping them land a job in a different organization. That's one way to advance great talent across your company." Anne says. "And doing this shows that you're truly committed to cross-functional teaming, which helps break down the walls and silos that can start to build up as companies grow."
Trailblazers don't always recognize the importance of their voice
When, 15 years into her career, Oracle invited Anne to speak to the women in her business unit, her initial response was, "I'm not your girl." It wasn't a lack of interest that made her decline. It was that she didn't recognize herself as any different from anyone else leading a large organization.
But, challenged by the invite to really think about it, she eventually realized that being a woman in an executive position gave her a unique perspective that could be valuable to others. At that time, the conversation around women in tech was just getting started. In fact, it was barely emerging, which made Anne a trailblazer when she presented her professional and personal journey.
"It really is important to speak frankly and transparently in a way that encourages everyone to pursue the unique road that's set out for them."
"I wanted to share the whole story," she says. "I wanted people to understand more about all the decision points in the journey, which affect your course along the road."
Unsurprisingly, she got a great response—not only from young women in her audience, but also from men of all ages. "The experience led me to believe that it really is important to speak frankly and transparently in a way that encourages everyone to pursue the unique road that's set out for them," Anne recalls.
As a follow-up to that initial talk, Anne helped found the Oracle Direct Women's Network, which is still active today. She brought in speakers and executives, worked with talent recruiting and university recruiting, and sought out other ways to welcome everyone to the tech industry. "That first talk was the start of the network," Anne says. "It really happened at a perfect point in my career because it made me realize that I had a responsibility to help break the path for others and tell them about all the opportunities ahead."
Board members must bring a unique voice to the table
"Board work is the summation of the experience of your career," Anne says. "I didn't appreciate it at first, but the work you do each day, the people you work with, the customers you interact with—all of that is what builds the stories and belief systems that help you develop the unique perspective that is so valuable on a board. The depth of your experiences is what gives your voice power and conviction."
Anne emphasizes the critical importance of diversity in the boardroom. And when she talks about diversity, she's not only referring to what we typically think of when we talk about diversity and inclusion. While it's undeniably important to establish diversity in terms of gender and race, it's also necessary to establish diversity in terms of voice and experience.
"The most successful boards are the ones on which every member has a unique experience and perspective."
"The most successful boards are the ones on which every member has a unique experience and perspective," Anne says. "The question to ask when you are considering a board position is, 'Is my voice unique enough that this company and its shareholders need my voice on this board?'" The role of unique perspectives is to drive robust debate and discussion, which is how boards are able to move a company forward in effective and innovative ways.
"When people are able to stand in the conviction of their experiences," Anne says. "That's when you have a really good boardroom."
The people coming up behind you can benefit from your experience
"My life is my testimony, and actions speak louder than words," says Anne. "This is why, when I'm considering a new opportunity, I always think about what example I'm setting. I always want to show that it's possible for different voices to lead in this industry."
For Anne, representation of experience matters. It's not just about what a person looks like, where they come from, or any other personal attributes. It's also about the things you can't see—a person's lived experience in all its nuanced variations. For example, part of Anne's personal career journey was being a stay-at-home mom who re-entered the workforce after some time away. Because of this lived experience, she tends to look outside traditional recruitment forums, and has the ability to recognize the potential of people who have been out of the workforce for a while and may be overlooked by others.
"It's important to welcome all different kinds of voices into the industry," Anne says. "When I was a leader, I always made sure there was somebody at the table who disagreed pretty vehemently with a good portion of my strategies. It was uncomfortable, but it was important to have that population represented because it fixed my own blind spot."
We couldn't agree more, Anne.
Anne shared so much more wisdom with us—so tune into the full episode of BUILDing To Boss to hear her thoughts about why customers are so important, how to tackle your first 100 days in a new leadership role, and why deeper employee engagement will be a hot trend for 2021 and beyond.
Don't miss an episode of BUILDing To Boss
Join OpenView's Khira Gabliani, Kaitlyn Henry, and Casey Renner for honest conversations with exceptional women leaders who have built product-led growth companies that changed the way we work. Subscribe on Apple Podcasts , Spotify, or listen on our website.